2021中国·长沙 C+C 媒体艺术国际驻留项目,全阵容公布!
2021-11-08 22:42:34
  2017年11月1日,长沙获得联合国教科文组织授予的世界"媒体艺术之都"称号,成为中国首座也是目前国内唯一获此殊荣的城市。近年来,多方力量献力长沙城市艺术氛围营造,这座历史文化名城开始不断趋向年轻化、现代化、艺术化。作为长沙媒体艺术节系列活动之一,长沙"C+C"媒体艺术驻留即将拉开序幕,邀请国内外青年艺术家以驻留和艺术创作的方式,深入长沙展开文化交流,探索符合时代精神的文化传播新路径。
On November 1st, 2017, Changsha was awarded by UNESCO and given the title of "Creative City of Media Arts", and it is China's first and currently the only city to receive this honour. Many sides have been contributing to create the urban artistic atmosphere, and the famous Star City with a rich history and culture has begun to become younger, modern, and artistic. As one of the series of events in Changsha Media Art Festival, Changsha "C+C" International Media Arts Residency Program, is about to start. Inviting both domestic and international young artists for residency and arts creation to achieve in-depth cultural exchanges and to explore a new path of cultural dissemination that corresponds to the zeitgeist.
  多元释义的"C+C"媒体艺术驻留计划希望通过媒体艺术手段将传统文化资源转化为城市创新创意活力因子,赋能城市创新创意发展新引擎。借力艺术的表现形式进行文化转译,让长沙世界"媒体艺术之都"这张城市名片更具时代性、专业性、艺术性和多元性,让湖湘文化面向世界展现更多元的魅力和更蓬勃的活力。
The multi-interpreted "C+C" media art residency aims to transform the traditional cultural resources into urban innovative and creative vitality factors through media art. Achieving cultural interpretation by means of artistic expression, and making the title of "Creative City of Media Arts" of Changsha become more professional, modern, artistic and diversified. So Huxiang culture could show more diverse fascinations and vigorous vitality to the world.
  同时,为提升城市品质和满足广大群众日益提升的审美需求,搭建国际、国内青年交流平台,在驻留期间将有一系列公共文化活动在长沙发生,并最终落地"C+C"媒体艺术驻留成果展。扎根本地,面向大众,文化共进。
Meanwhile, for improving quality of the city and meeting the growing aesthetic needs of the masses, and for building an exchange platform for international and domestic youth, during the residency period, a series of public activities will take place in various locations of Changsha, and will eventually presented as "C+C" media art residency exhibition. Rooting on the local land and facing the masses, hence culturally advancing together.
  往期国际媒体艺术驻留项目成果展览
  共8位青年艺术家参与本次"C+C"媒体艺术驻留,在他们即将开始在长沙驻留体验及创作活动之际,让我们先行一览他们的介绍。
A total of 8 young artists participate in this "C+C" media art residency, as they are about to experience their residency and creative activities in Changsha, let us take a look at their introduction first.
  按姓名首字母排序
  Ordered Alphabetically by Last Name
  若瑟·狄莫(葡萄牙)的作品实践是对空间进行神秘而富有诗意的研究:位移、短暂、分散的身份以及技术和气候良知之间的冲突等。艺术形式是利用装置、视频、灯光、摄影、绘画和策展计划交叉的异质形式语言混合,他的作品具有很强的实验性。他拥有普利茅斯大学(英国)和纽约Transart学院(美国)的创意实践硕士学位。担任过澳门VAFA-国际影像艺术节的导演。他入围了2016年Sovereign Asian Art Award决赛,并获得了东方基金会(葡萄牙)、国家文化中心(葡萄牙)和澳门文化学院的奖学金。1992年他参加了柏林的 Transart Trienalle,并代表葡萄牙参加了瓦伦西亚双年展。
英文介绍
José Drummond (Portugal) is a Portuguese artist currently based in Shanghai. His research-driven practice is an enigmatic and poetic investigation of the space in-between with questions of displacement, transience, and fragmented identities. Making use of a heterogeneous formal language where Installation, Video, Light, Photography, Performance, Painting, and curatorial initiatives intersect, Drummond's process-based hybrid works defy classifications and artistic genres. His works are made with a strong experimental aspect. He is the director of VAFA - international video art festival, in Macau, and holds an MFA in Creative Practice from the University of Plymouth (UK) and the Transart Institute in New York (USA). He is a 2016 Sovereign Asian Art Award finalist and received scholarships from the Orient Foundation (Portugal), the National Centre of Culture (Portugal), and the Cultural Institute of Macau. He participated in Transart Trienalle in Berlin and represented Portugal at Valencia Biennale in 1992.
  ▼
  作品一览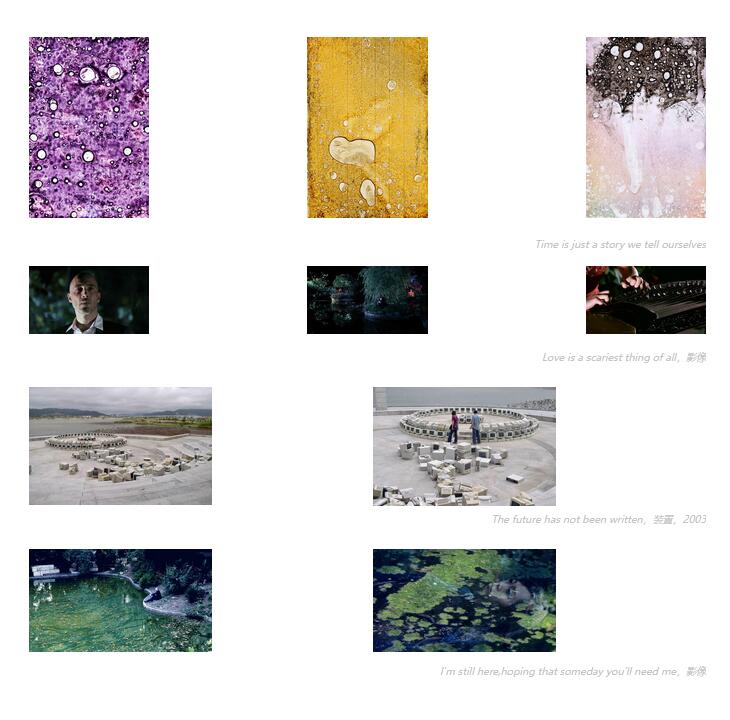 李敏智(韩国)致力于用作品打破人类存在的物质性,通过创造超越流派的艺术来质疑传统意识形态的永恒悖论,她经常在作品中使用自己身体的物质性——通过行为艺术、录像艺术、雕塑、装置和任何数量的物理表现形式。她于2020年获得东方基金会艺术奖 - 荣誉奖。
英文介绍
MJ Lee (Korea) 's physical body as an indicator of the world artist perceives, This lead her to investigate and expand her perceptions and experience, by creating art that transcends genre, often using the physicality of her own body through performance, video art, sculpture, installation, and any number of physical manifestations.
▼
作品一览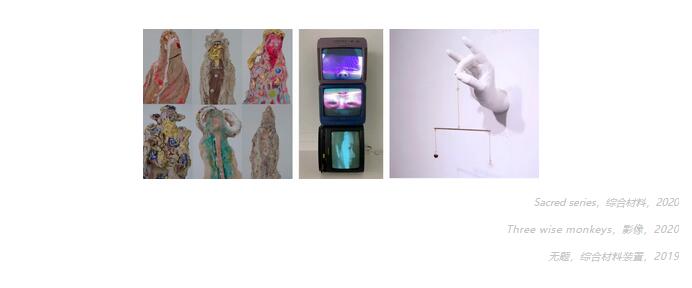 李维伊(中国)是一位艺术家weiyi.li、设计师weiyiandfriends.com、策展人bigbadgallery.com、出版人re-publication.com、杂货店主currently-available.com,她同时生活和工作在以上五个网页链接里。2009年毕业于同济大学,获得艺术设计学士学位,2012年毕业于耶鲁大学艺术学院,获得平面设计硕士学位。同年获得Rebecca Tylor Porter奖,2018年入围华宇青年奖,现于伦敦皇家艺术学院就读设计工程博士。
英文介绍
Weiyi Li (China) is an artist (weiyi.li), designer (weiyiandfriends.com), curator (bigbadgallery.com), publisher (re-publication.com) and retailor (currently-available.com) who lives and works between these five URLs. She raduated from Tongji University in 2009 with a bachelor's degree in art design, and in 2012 from Yale School of Art with a master's degree in graphic design. In the same year, she won the Rebecca Tylor Porter Award. In 2018, she was shortlisted for the Huayu Youth Award and is currently studying for a PhD in Design Engineering at the Royal College of Art in London.
▼
作品一览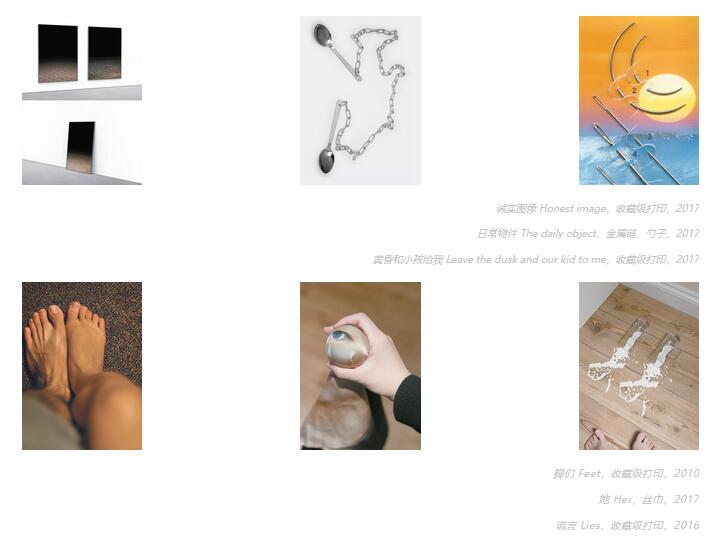 毛太纸(中国)于2009年开始电子音乐艺术创作,其出众的旋律使其在短时间内得到了圈内先锋电音厂牌的赏识并签约发行唱片。2010年展开全国巡演,2012年创立长沙首个新媒体视觉艺术团体"M.C.T.L",团队创作涉猎范围包括:光影视觉装置、线下音乐派对、现场视觉、3D映射、影像艺术、音乐视频等。
  左滑查看英文介绍 Swipe left to read in English
  MTZ (China) started independent electronic music art creation in 2009. Its outstanding individual melody made it recognized by the domestic pioneer electronic music label and signed to release records in a very short time. He started a national tour in 2010. In 2012, he founded Changsha first new media visual art group M.C.T.L. The team's scope includes: visual installations, music party, visual live, 3D mapping, video art, music video etc.
▼
作品一览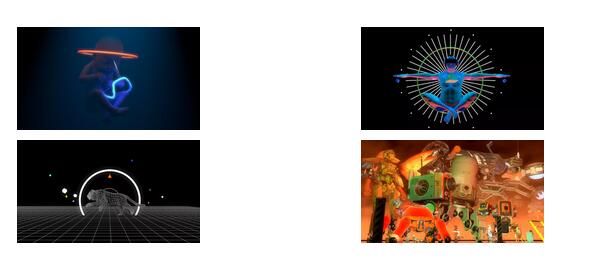 安东尼·里德(英国)是一名艺术家及摄影师,目前工作并居住在上海。他主要采用中画幅胶片机和数码相机进行创作。里德于2007年毕业于诺威奇艺术大学纯艺专业,随后他来到中国并在青岛海洋大学学习汉语并开始了他的摄影创作生涯。他的作品主要探索的是已有的人工建设环境和过去在中国的12年时间里目睹的转变过程。他主要的拍摄地点位于上海,也包括中国的其他部分。从最开始的一名局外人和观察者,到后来的居住者,他目睹了在这片土地之上发生的剧烈变化,并以他个人的视觉语言记录了下来,描写的是多样性的地点与其中的居住者们之间的动态关系。
英文介绍
Anthony Reed (United Kingdom) is an artist and photographer who now works and lives in Shanghai. He works mainly in medium format film and digital photography. Reed graduated from Norwich University of the Arts in 2007 with a degree in Fine Art. After that Reed moved to China to study Chinese at Qingdao Ocean University and then went on to work as a photographer. His work broadly explores the built environment and the processes of transformation in the past 12 years in China, mostly in his new home in Shanghai but also in many other parts of the country. First as an outsider and observer, then as a habitant, he has witnessed the drastic transitions of this land, documented them with his own visual language and depicted the interactions between these diverse locations and their inhabitants.
▼
作品一览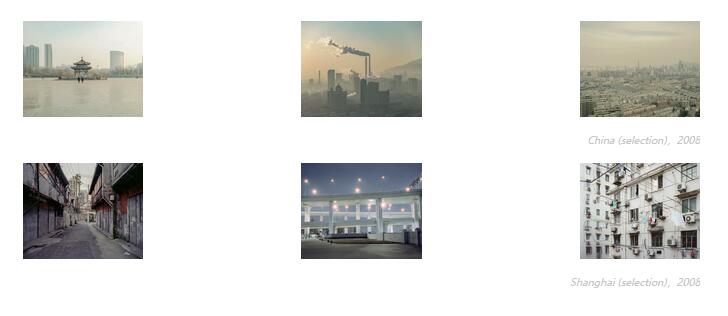 如拉(中国)是当代涂鸦艺术家,英国伦敦艺术大学视觉艺术硕士,2007年开始街头涂鸦艺术创作,个人的创作以宇宙混沌理论为基础,洞察时代语言与自然生态,利用敏锐的色彩感受结合街头与工作室技法与材料,不断在风格和作品空间维度上进行着探索。作品遍布全球多个城市包括伦敦、斯图加特、米兰、墨尔本、悉尼、香港等,2012年曾在伦敦The Old Bath Gallery举办涂鸦艺术个展,曾多次为BALENCIAGA、MONCLER、ASH、Volkswagen、BMW、PUMA、MISHKA、K11、九龙仓IFS、AIMME SPARROW、立邦、亚洲动物基金等品牌和机构提供创意服务,2016年启动城市公共涂鸦艺术项目WALLSKAR国际涂鸦艺术节。
英文介绍
RULA (China) - Urban graffiti artist from China, under the influence of his family, he started drawing at a very young age, he didn't realize what he really wanted until he met Graffiti during 2007. By 2010 he went to London studying Fine Art Digital at University of Art London Camberwell College of Art, and finished his master degree of art. In 2012 he held his first Solo Exhibition at Old Bath Gallery in London. After 4 years living & traveling around Britain and Europe, RULA returned to China to continue his career. In 2017 he launched "WALLSKAR" - an international graffiti artist network which bridges the Chinese graffiti art with the globe graffiti art scene by organizing public graffiti festivals. His studio has provide creative services to multiple brands and organizations including Balenciaga, Moncler, Volkswagen, BMW, PUMA, MISHKA, K11, IFS etc.
▼
作品一览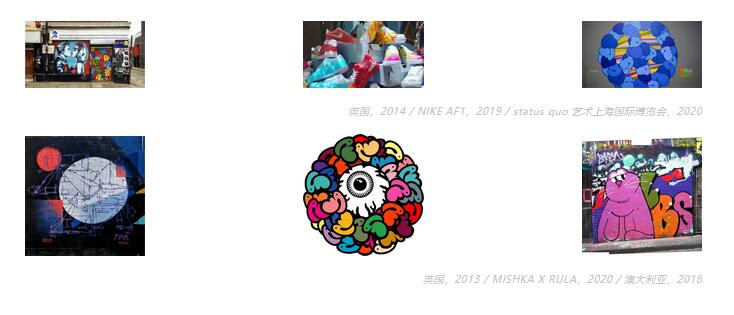 孙存明(中国)先后就读于江南大学和法国里昂国立高等美术学院,分别获得文学学士学位、艺术本科学位及艺术硕士学位。孙存明的作品充满了从日常生活中汲取的符号和信息。他的视觉语言本质上是简明含蓄的,通过对现成品的运用,物体原有的语义随之改变,作品的呈现也在微妙的变化中浪漫和暧昧。孙存明的作品基于对现实的回应,他关注文化身份与属性、个体认知以及这些概念之上的总体结构。他作品中的视觉元素充满张力,阐明了其自省的内核。他的创作媒介涵盖了影像、现成品、雕塑等。2021年创立品牌"间接接吻",其内容包括播客、设计等文化项目。
英文介绍
Cunming Sun (China) attended the Jiangnan University and the ENSBA Lyon, respectively, obtaining a bachelor's degree in literature, a degree in arts, followed by a master's degree in art. Sun's work is fraught with signs gleaned from his daily life. His visual language is laconic by nature, by working with ready-made products, often changing the object's original semantics, in order to extend its appearance romantically or ambiguously by means of subtle variation. Sun used his gestures as the response to reality, addressing themes of cultural identity, individuality, and the overarching constructs which govern such concepts. Visual elements are presented in a strained way, illuminating the self-reflective quality of itself. His media-diverse practice encompasses ready-made and found objects in addition to film and video. He is the founder of the brand "Indirect Kiss", which includes podcasts, design and other cultural projects.
▼
作品一览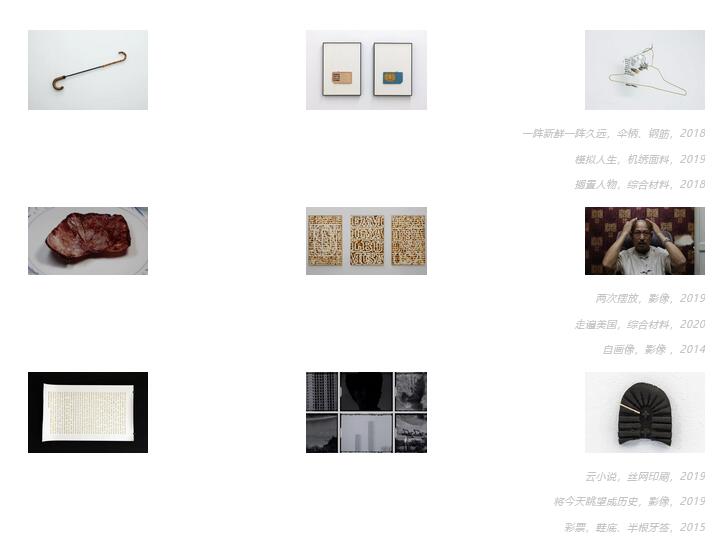 魏皓啟(新西兰)是一位独立策展人、评论家、写作者、编辑和艺术项目经理,在文化领域有着丰富的职业经验。在新西兰国家博物馆工作期间,他参与了超过100个艺术展览和艺术家委约合作的项目。他曾经与墨西哥国家考古博物馆、德国法兰克福博物馆、意大利那不勒斯博物馆、英国维多利亚和阿尔伯特博物馆、中国国家博物馆、日本东京国立博物馆、澳大利亚活动影像中心以及上海中华艺术宫等国际专业机构开展过展览合作。同时,他分别参与拓展和管理了2009年、2011年、2013年和2015年的威尼斯双年展新西兰国家馆展。
英文介绍
Hutch Wilco (New Zealand) is an independent curator, critic, writer, editor, and project manager. He worked for National Museum of New Zealand Te Papa Tongarewa. During his time with the National Museum, he was involved in the development of over 100 exhibitions and artist commissions. He has developed exhibitions in partnership with the Mexican National Archaeological Museum; Staedal Museum, Frankfurt; the Museum of Naples; the Victoria and Albert Museum; the National Museum of China; the Tokyo National Museum; the Australian Center for Moving Image; and the China Art Museum Shanghai. He has also developed and managed exhibitions in the 2009, 2011, 2013 and 2015 Venice Biennale.
▼
作品一览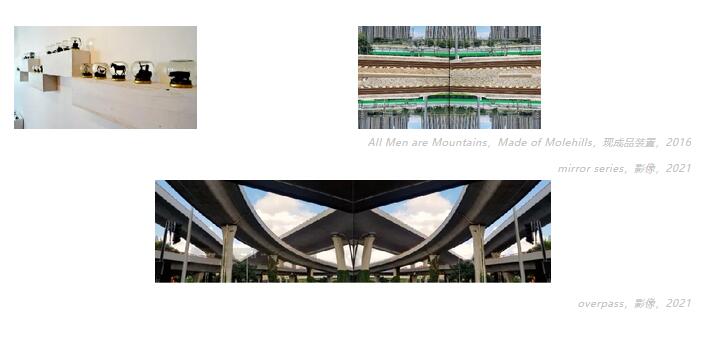 为强化驻留艺术家在长沙的本地体验和与公众群体的深入交流,并将城市文化体验向艺术创作转化,最终实现一次以成果展览为载体的公共艺术事件共创,在整个驻留期间将围绕4个重要动作展开一系列活动:
In order to strengthen the resident artist's local experience in Changsha and in-depth exchanges with the public, transform the urban cultural experience to artistic creation, and eventually accomplish a co-creation of a public art event by presenting a exhibition, a series of activities will be carried out around 4 significant actions:
  驻留艺术家"进乡村、进社区、进高校、进企业"。
In-residence artists "Going into the countryside, into the community, into the university, into the enterprise".
  以实地走访、沙龙论坛、分享会、工作坊、非遗文化体验等形式探索人文艺术与城市建设之间的关系。通过与大众的互动,让媒体艺术更加公共化、普遍化。
Exploring the relationship between humanities and art and city development in the forms of field visits, salon forums, sharing sessions, workshops, intangible cultural heritage experiences, etc.. Through interaction with the masses, media art is made more public and universal.
往期国际媒体艺术驻留活动
  敬请期待。
  Please stay tuned.
  项目时间Duration11.08 - 12.15
  指导单位Guidance Unit
  主办单位Presenter
  承办单位Organizer
  执行单位Operator
  协办单位Co-organizers
来源:长沙市媒体艺术发展中心官网 |
作者: |
编辑:陈贝贝