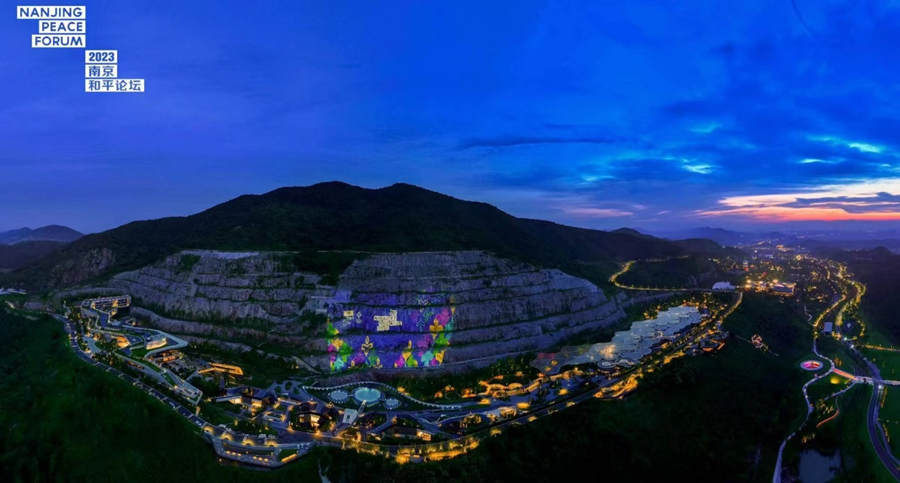 Opening Ceremony of Nanjing Peace Forum 2023
Ms. Gabriela Ramos, UNESCO Assistant Director-General for Social and Human Sciences Sector gave her welcome speech by video
  Prof. Shahbaz Khan, the Director of UNESCO Multisectoral Regional Office for East Asia, delivered a keynote speech
  Launch Ceremony of the 2023 Peace Forum
Main Forum
  Sub-Forum Advocating a Culture of Peace and Advancing Youth Peace Education Cooperation
  Mr. Robert Parua, Programme Specialist of Education sector of UNESCO Multisectoral Regional Office for East Asia, delivered the closing speech
The Nanjing Peace Forum is an annual forum initiated jointly by UNESCO Multisectoral Regional Office for East Asia, National Commission of the People's Republic of China for UNESCO, the Information Office of Jiangsu Provincial People's Government, and Nanjing Municipal People's Government since 2020. The past forums have gathered young participants from many countries, for dialogue, exchange and creating platform for building of a community with a shared future for humankind.
On September 19-20 2023, the third Nanjing Peace Forum with the theme "Peace, Security, and Development: Youth in Action" was successfully held in Jiangsu Expo Garden. The 2023 Nanjing Peace Forum, was focused on "Peace and Sustainable Development", inviting participants and representatives from international organizations, national and provincial government institutions, private sector bodies, young talents, aimed at promoting dialogue, and building a community with a shared future and achieving lasting peace and sustainable development.
In the opening ceremony on 19th September at the Cliff Theatre of Jiangsu Expo Garden, Ms. Gabriela Ramos, UNESCO Assistant Director-General for Social and Human Sciences Sector gave her welcome speech by video. She highlighted the significant role of youth action on the peace and development. She expressed her appreciation to the partner institutions for their support and stressed on the theme of Nanjing Peace Forum 2023, emphasized that "We need women and young people to take ownership of peace processes – it is the only way they can be sustainable."
Prof. Shahbaz Khan, the Director of UNESCO Multisectoral Regional Office for East Asia, delivered a keynote speech at the opening ceremony on the topic of "Together for Global Development, Together for a Sustainable Future". In his speech he described the progress of global development through peace, the importance of fostering inclusive dialogue, and the role of youth as key pillar for a sustainable future. "It is through youths' collective actions that we prepare our youth to face unforeseeable future challenges and opportunities" he emphasized.
During the main forum on September 20th 2023, experts, youth and scholars from different fields delivered keynote speeches under the theme and presented on various topics on environmental challenges and China's Strategies, the Voices of Young People in Sustainable Development, Youth Action and Leadership in Achieving Sustainable Development Goals, etc. The sub-forums and discussions were aligned with the Chinese Government's policy agenda such as shared prosperity, ecological civilization, modernization aligned with digital economy, green economy and transformation of education systems. Youth is strategic priority in UN Sustainable Development Cooperation Framework for China (2021-25). There were also parallel sub-forums held at the same time, at the 2023 Nanjing Peace Forum under various themes such as promoting Regional Peace Building through Green Development, Disaster Risk Reduction, Cultural and intangible heritage, Peace Building and Sustainable Development, Curriculum Guide on Peace Education, Advocating a Culture of Peace and Advancing Youth participation in Peace Education Collaboration.
The sub-forum Advocating a Culture of Peace and Advancing Youth Peace Education Cooperation discussed the draft curriculum guide on peace education for North East Asia. Over 50 participants, teachers and experts from China discussed the draft curriculum guide to promote peace in the region. This peace guide serves as a framework supporting peace education in diverse communities across Northeast Asia. The experts from Universities from China, Japan, Republic of Korea and UNESCO discussed the final draft of the common curriculum guide for North East Asia. Mr. Robert Parua, the Programme Specialist of Education sector of UNESCO Multisectoral Regional Office for East Asia, joined the exchanges and dialogue with experts and scholars at the Sub-forum to finalize the common curriculum guide for peace education.
As an important component of the Nanjing Peace Forum, the parallel sub-forum with the theme of the Power of Peace in Culture was held on September 18th at Tsinghua University, and another parallel sub-forum on Global Security and Development will be held on November 13th at Emlyon Business School Paris Campus.
At the closing ceremony of the Nanjing Peace Forum 2023, the Forum's Report "Youth Security Perspectives on the Belt and Road Initiative" was released highlighted the key points as the major outcome of the forum. In his remarks at the closing Ceremony of the 2023 Nanjing Peace Forum, Mr. Robert Parua, Education Specialist from UNESCO Multi-Sectoral Regional Office for East Asia thanked all the Institutional Partners who have collaborated closely to ensure the successful hosting of the Forum. He reassured all the participants on UNESCO's solid commitment to promote peace through education, sciences and Culture and the UNESCO's global culture of peace programme. In his concluding remarks he stressed on Peace as a fundamental pillar for sustainable development and prosperity.
Since 2020, UNESCO has been closely partnered with its Nanjing partners to jointly organize the Nanjing Peace Forum, injecting new vitality into achieving global peace and contributing to the achievement of sustainable development goals at the global, regional and country level.