icswb.com, November 11. (Huang Neng) What bright ideas will come about when media arts enter into campus? How the Changsha of China and Viborg of Denmark, these two "City of Media Arts" link with each other? On November 11, with the theme of "Connecting Past and Future with Creativity", 2022 Changsha "Media Arts on Campus" Campaign launched in Changsha Changjun Bilingual School.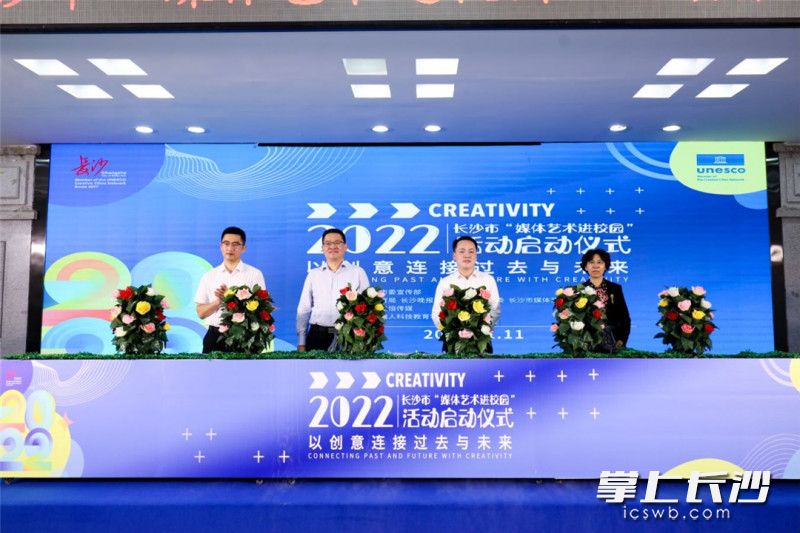 On November 11, the opening ceremony of 2022 Changsha "Media Arts on Campus" Campaign was held. Photo provided by the organizer.
  Two cities' Paintings: Changsha Flower-drum Opera Meets Danish Fairy Tales
  In the opening ceremony, Magee programming of Aniworld TV(Golden Eagle cartoon) presented a series of art works, including the digital animation of traditional Hunan Flower-drum opera "buguo (tinkering)", the robot dance and the traditional Shadow Puppet Play "Monkey King Battles with Centipede". Owing to the exquisite design and creativity, media art flourishes in every corner of the campus, which leads the students to observe and feel the charm of Changsha as the "City of Media Arts".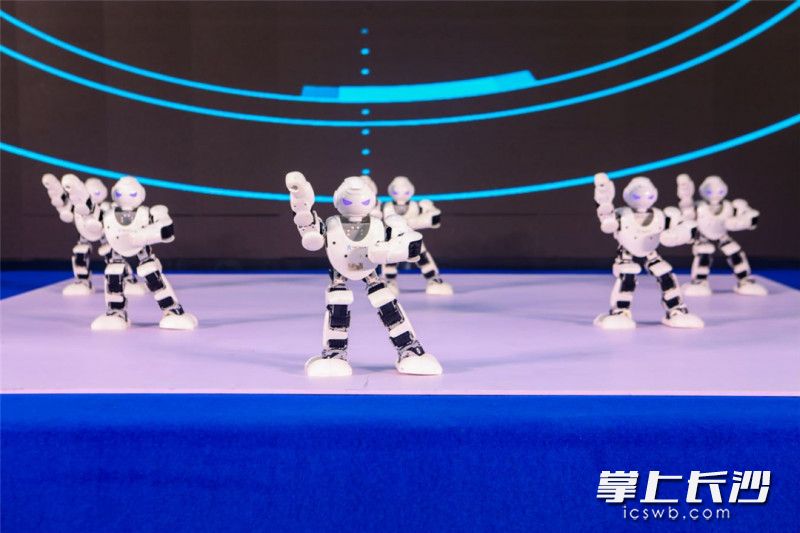 In the opening ceremony , the robot dance performance.
Changsha of China and Viborg of Denmark, these are the two "City of Media Arts". The organizing committee planned a special activity named "My Friends·Two cities' Paintings - Changsha & Viborg Children's Arts Exchange". Middle schools students from two cities interacted with each other through exchanging cultural information of their own city, online study, reading books and watching videos, and deepened their mutual understanding of the two cities. In these activities, they specifically introduced their local culture, like the Changsha Flower-drum opera and Danish fairy tales. Meanwhile, they were encouraged to paint their wish for the world peace, thus further enhancing their mutual learning and communication.
With different cultural background, how did the children from two different countries know each through painting? And what will come about when Changsha Flower-drum Opera meets Danish fairy tales? By exhibiting the paintings from both sides, we will see a wonderful integration between the Chinese and Western culture.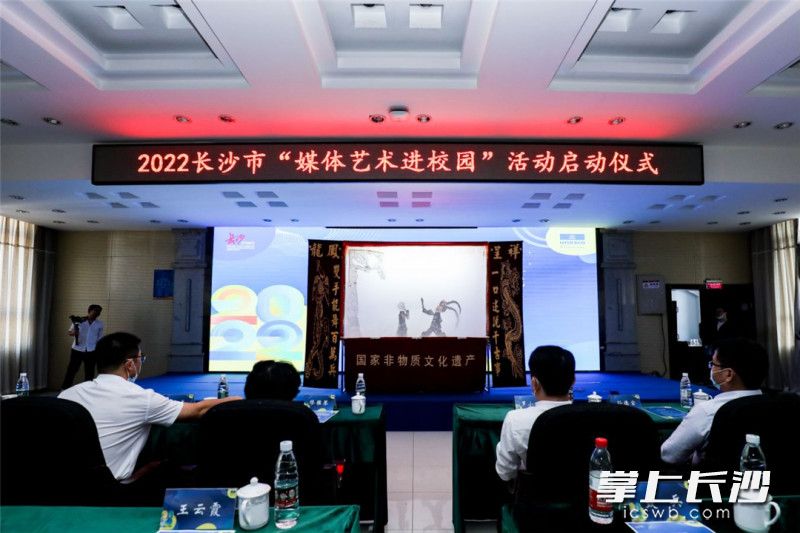 Shadow Puppet Play
  Three Forms of Art Competition Witness A Creative Changsha
Changsha enjoys endless creative activities and a great environment of culture and art. The booming digital media arts interact with citizens with a more frequent pace. "Media Arts on Campus" Art Competition has been held for three consecutive years and together it has collected 8000 paintings, 3000 photos and 800 videos. This year, the competition was carried out in three forms: painting and calligraphy, photography, digital arts and creative programming. Besides, some creative and media arts colleges will be invited.
Tour exhibitions of 2022 Changsha "Media Arts on Campus" Campaign will be organized, in which some of the outstanding works, invited works and prize-winning works of "Stories in Hunan Countryside" Film Competition of Hunan province will be displayed.
Changsha, since awarded as the "City of Media Arts", has always been self-innovative and breaking new grounds. The development of media arts further endowed the children the ability to feel the power, charm, vitality and endless imagination of Changsha. With the successful completion of "Media Arts on Campus" Campaign for three consecutive years, the campaign has gained much more popularity and become one of the most favorite activities among middle and primary students in Changsha.
This event is guided by the Publicity Department of CPC Changsha Municipal Committee, sponsored by the Changsha Bureau of Education, Changsha Evening News, Changsha Municipal Committee of the Communist Youth League and Media Arts Center of Changsha, organized by Star Media of Changsha Evening News and co-organized by Changsha Robotics Technology Education Association.