What is the first thing that comes to your mind when you think of Yuelu Academy? Is it the famous "Zhu Xi and Zhang Shi's Academic Debates", or the exciting Yuelu Summit? In the afternoon of August 17, a delegation led by UNESCO Representative to China Prof. Shahbaz Khan visited Yuelu Academy, a millennium-old ancient academy.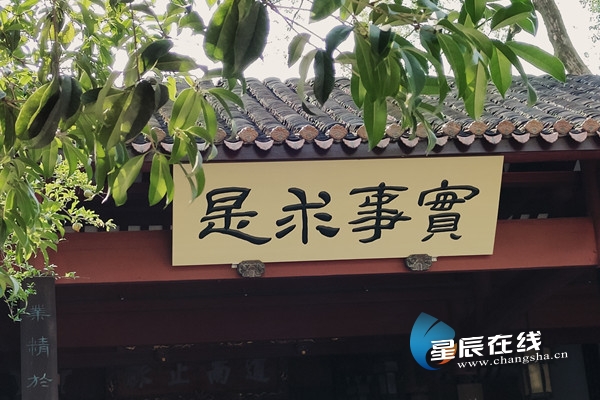 (The "Seeking Truth from Facts" plaque in Yuelu Academy.)
Upon entering the thousand-year-old building Prof. Shahbaz Khan praised the ancient architecture of the academy. The lecture hall is the main building of Yuelu Academy, and there are three plaques inside the hall, which are "Knowledge, Inclusiveness Humanity, and the Tao of Heaven.", "The Orthodoxy of the Neo-Confucianism in the South" and "Seeking Truth from Facts", among which The plaque of "Seeking Truth from Facts" was written by Bin Bucheng, the president of Hunan Technical College in 1916, and was decided as the motto of the academy. This phrase, however, runs through the veins of Chinese culture and propels the dazzling Chinese history into a bright future. The delegation later watched a video of General Secretary Xi Jinping's speech at Hunan University's Yuelu Academy in 2020, visited Mao Zedong's former residence (the former preparatory office of Hunan University), and gained a better understanding of Hunan culture.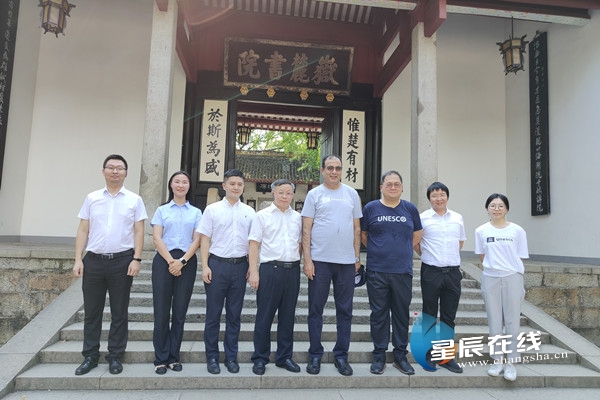 (A group photo of the delegation inside the Yuelu Academy.)
Orange Island, an instagrammable spot in Changsha, attracts many tourists during the peak season in August, and it naturally attracted Prof. Shahbaz Khan to visit. Known as "The Biggest Inland Island in China", the scenic spot was marked with revolutionary memory when Chairman Mao wrote the well-known piece "Qin Yuan Chun - Changsha" at the head of the island in 1925. After taking a photo with the statue of Mao Zedong in his youth, on his way to the forefront of the island, it started to rain lightly, bringing some coolness to the hot weather, Prof. Shahbaz Khan then said, "With the combination of the river, the island, and the rain, I see the best version of Changsha."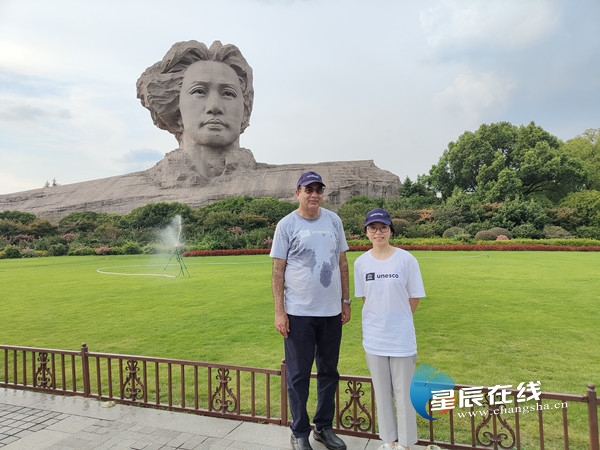 (Prof. Shahbaz Khan took a photo with the Mao Zedong Youth Art Statue. The above photos were taken by Wu Ying, a Changsha Online reporter)