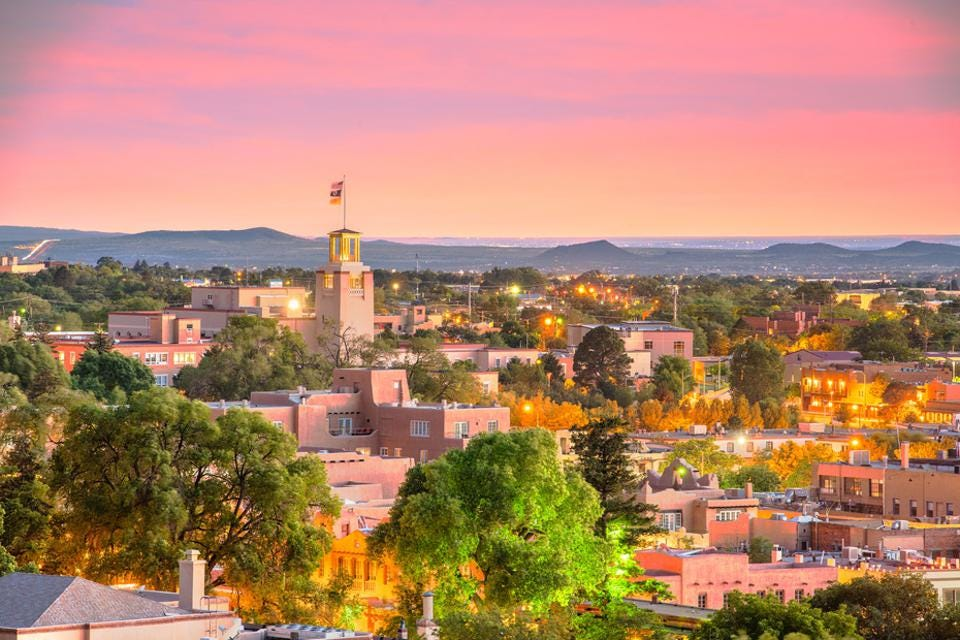 Santa Fe's sunset.
Source: GETTY
    
Santa Fe (USA) and Ayacucho (Peru)
In 2005, Santa Fe became the first city in the United States to join the UNESCO Creative Cities Network (UCCN), and in 2019, Ayacucho, Peru, was selected to join the UCCN. Known as the "Best Small City" in the US, Santa Fe is home to a combination of Native American, Spanish, and Mexican, while Ayacucho is an ancient Andean city, how did these two cities become the first to be included in the UCCN? How do these two cities provide a platform for the world to appreciate and preserve folk arts traditions, how do they demonstrate humanistic concern for the underprivileged, and how do they serve as inspirational muses for artists and dreamers?
Let's find out the answers with ICCSD!
  
Santa Fe
The "Best Small City" with a mix of cultures
In 2005, Santa Fe became the first city in the United States to be selected as a UCCN Creative City, becoming one of only nine cities in the world to receive this title at the time. Creativity has always been at the heart of Santa Fe, starting with the trade fairs attended by Native Americans and Mexico's indigenous population, to El Camino Real and the Santa Fe Trail, to the vibrant markets and art fairs of today, it is easy to see that commerce and the exchange of ideas are deeply rooted in Santa Fe.
  
Santa Fe's appointment to the UCCN is a testament to the city's important achievements in cultural industry development. Artists, dreamers, entrepreneurs and countless tourists flock to Santa Fe like pilgrims, drawing inspiration from the rich and unique local aesthetic traditions and participating in the various crafts and folk art markets that have helped the city grow into a hub of cultural industries.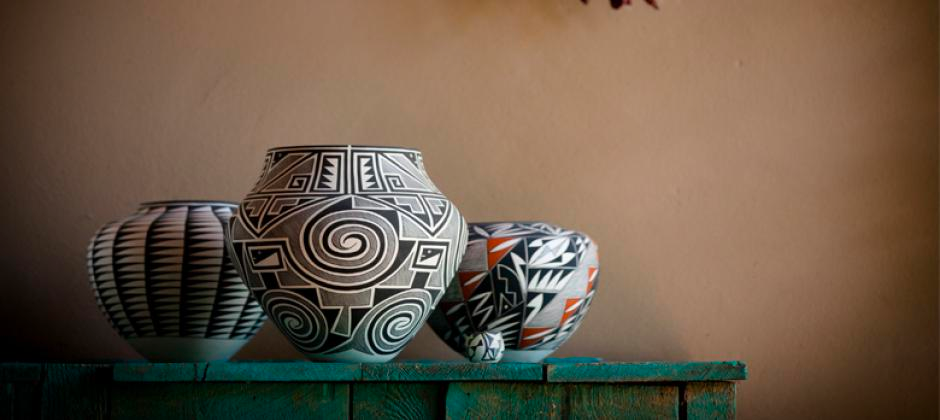 Santa Fe handicraft works.
Source: https://en.unesco.org/creative-cities/santa-fe

Located in New Mexico, USA, Santa Fe - which means "sacred faith" in Spanish, is the second oldest city in the United States and the nation's oldest and highest state capital. For more than 400 years, artists, chefs, nutritionists and dreamers who live for creativity have moved into this ancient city with their culture, talent and experience. Here they were amazed at how well the Anglo, Spanish and Santa Fe native cultures could blend together - stunningly and unobtrusively, silently and movingly immersed in the silvery snow tops of the Sangre de Cristo Mountains and the scarlet sunsets on top of the Jemez Mountains.
  
Early Native Americans called Santa Fe the "Sun Dance Venue"; pioneers in the late 19th and early 20th centuries called it "a city like no other". It is undeniably true to its name - every corner of the city speaks of its storied history and cultural heritage, with colorful open-air markets, old buildings, art galleries and museums, as well as a variety of trendy restaurants, modern creative stores and Native American art fairs. It is also a mix of Native American, Spanish, Mexican, cowboy, art and modern American cultures. People can always find something new and different here, and let their imagination and creativity fly. No wonder Conde Nast Traveler magazine once named this city the "Best Small City".  
·Santa Fe - a true cultural fusion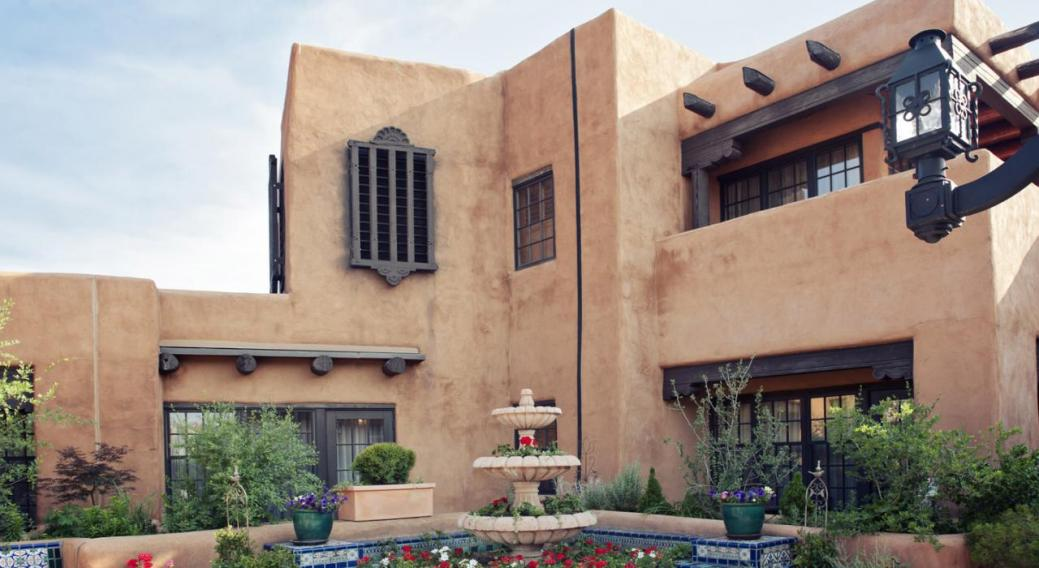 Santa Fe houses built with earthen bricks, an oriental building material.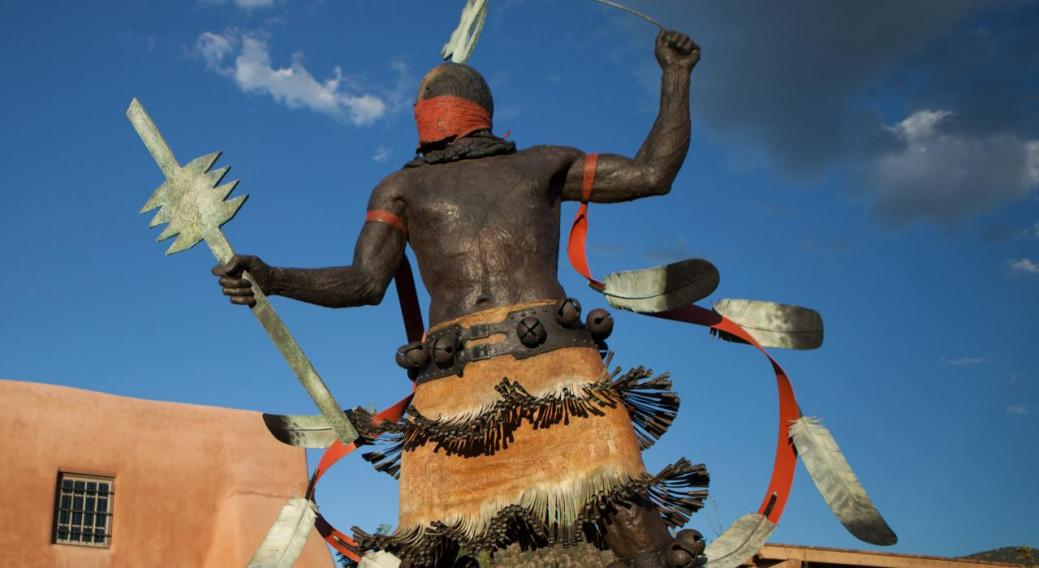 The Museum of New Mexico's statue of an Apache Mountain Spirit Dancer.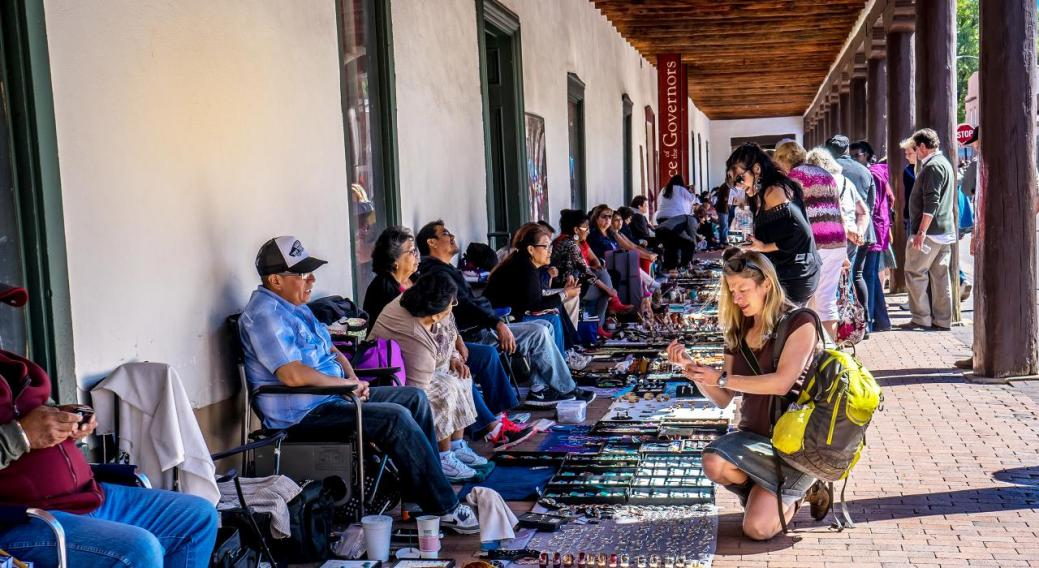 Local Santa Fe crafts at the Native American market.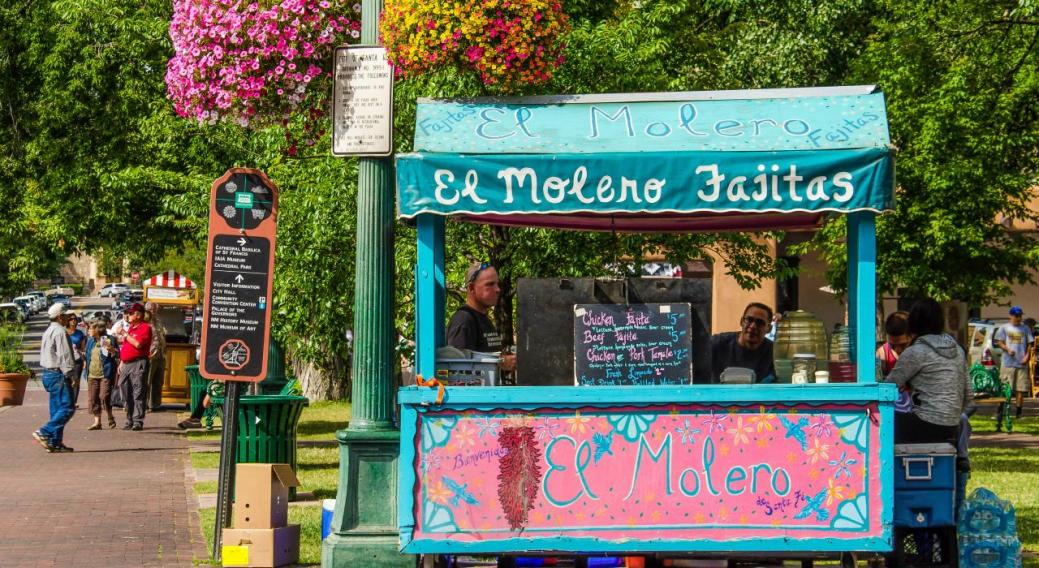 The brightly decorated El Molero chicken taco stand in downtown Santa Fe.
Source of the above four photos: Official U.S. Tourism Website
  
Native American Traditions and Spanish Colonial Art
  
Santa Fe is rich in cultural resources, with folk art traditions dating back to the Pueblo culture of the Rio Grande. Today, Native American traditions, including weaving, pottery, jewelry and dance, remain an important part of contemporary Native culture throughout the city. Spanish colonial art, including folkloric dance, straw appliqué and pewter crafts, also continues to flourish. One in ten jobs in Santa Fe is related to the arts and cultural industries. The city is home to more than 250 galleries, vibrant performing arts groups and an impressive array of museums.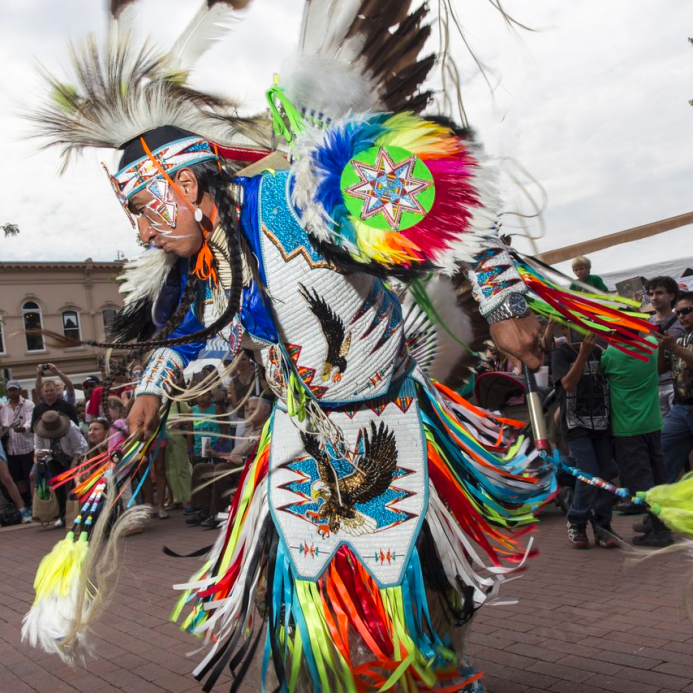 A dancer at the Santa Fe Indian Market.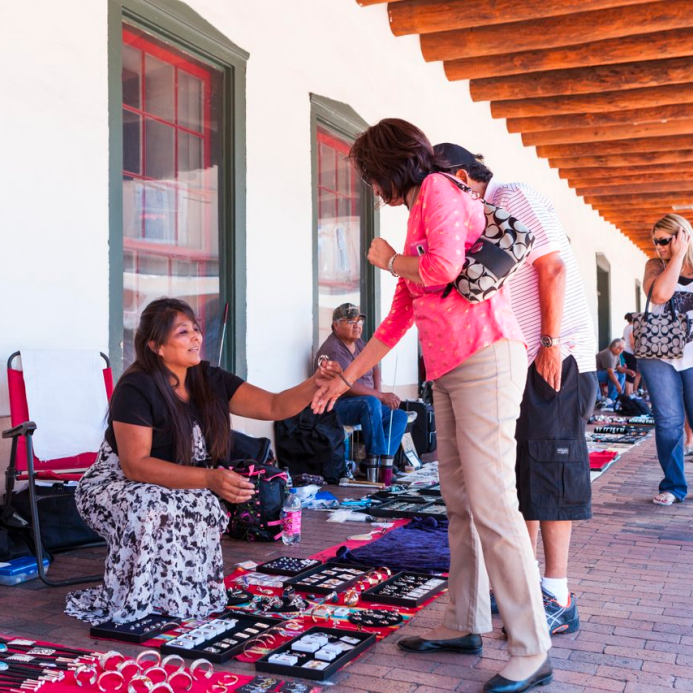 Santa Fe Santa Fe Indian crafts stall.
Source of the above two photos: TOURISM Santa Fe

Every July, the Traditional Spanish Market showcases the rich and colorful Hispanic culture of New Mexico at the Santa Fe Plaza. As a popular event that attracts a wide range of locals and visitors, the Traditional Spanish Market is open daily and features handmade traditional artwork by more than 350 local Hispanic artists, live music and dancing, and distinctive local cuisine. This famous market is the oldest and largest Hispanic market in the United States. All the festivities are centered in Santa Fe Plaza and its surrounding area of historical museums, stores and restaurants. During the event, the artists and their families will share stories of Hispanic cultural heritage.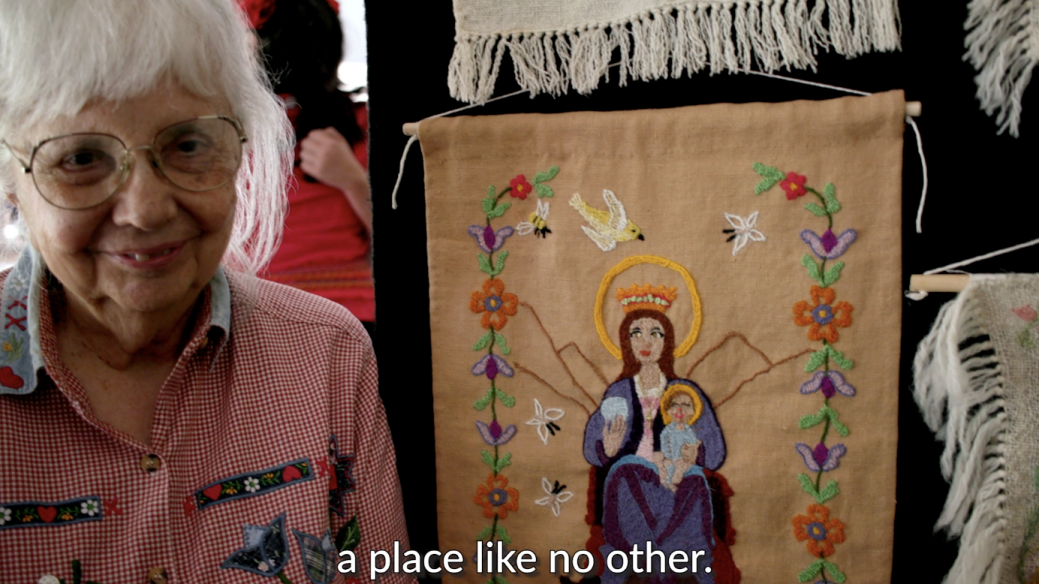 An artist and her works at the Traditional Spanish Market.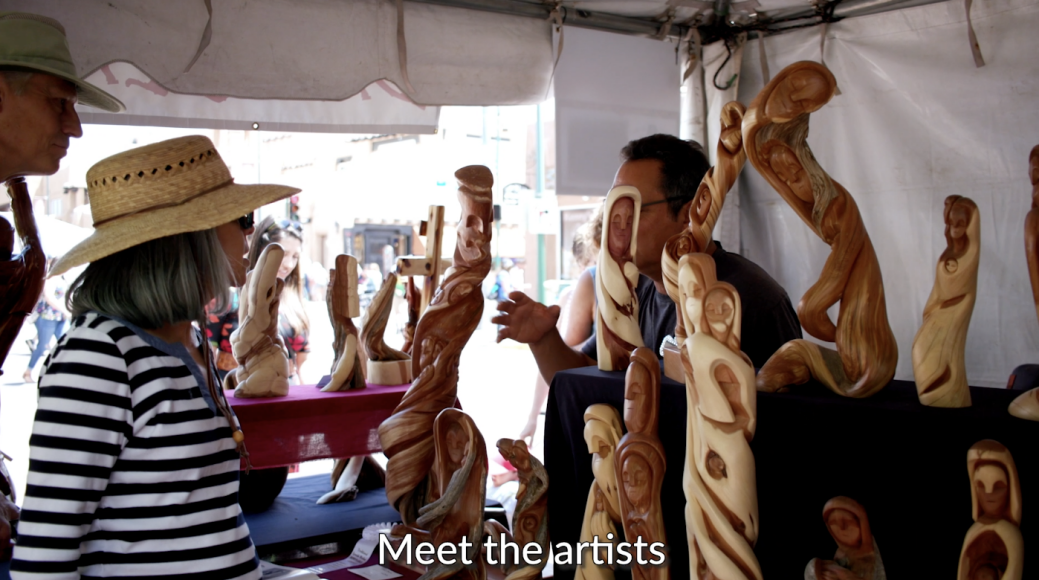 Spanish culture and art displayed in Santa Fe Plaza.
Source of the above two photos: https://www.spanishcolonial.org/spanish-markets/

 
  ·Santa Fe International Folk Art Market

The 2022 Santa Fe International Folk Art Market will be held at the Museum Hill, where 164 artists from 40 countries and regions are invited to participate and showcase their artwork. One-of-a-kind handcrafted items ranging from ceramics and rugs to clothing and jewelry will be available for purchase.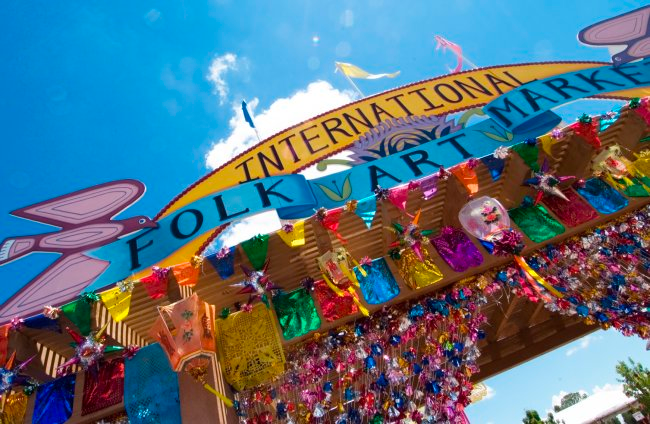 Site of the Santa Fe International Folk Art Market.
Source: https://www.santafe.org/event/international-folk-art-market/10775/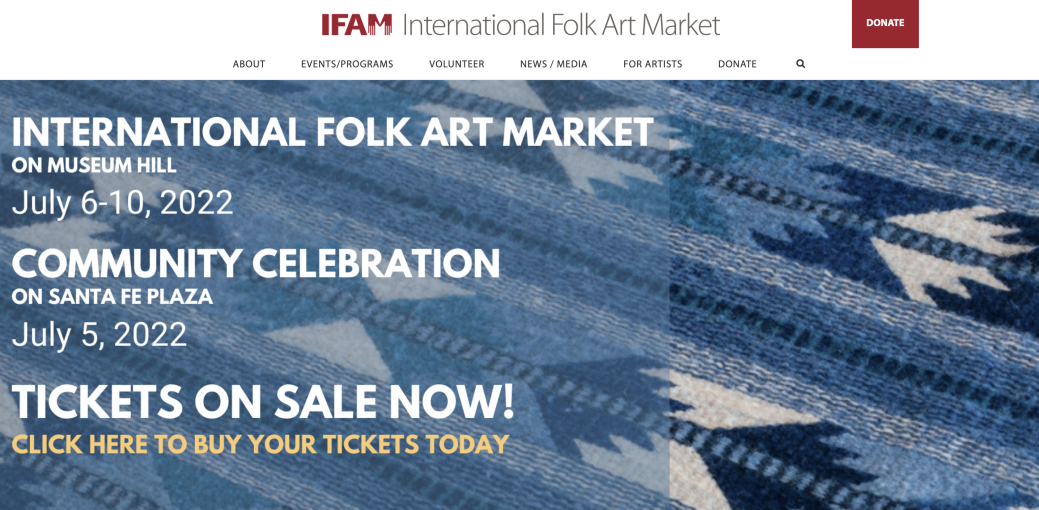 The official website of the Santa Fe International Folk Art Market (IFAM).
Source: https://folkartmarket.org/
2022 Santa Fe International Folk Art Market.
Source: https://ifam.ticketspice.com/international-folk-art-market-santa-fe

The mission of the Santa Fe International Folk Art Market is to create economic opportunities for folk artists around the world who celebrate and preserve folk art traditions. Since its inception, it has generated more than $30 million in sales, hosted more than 1,000 folk artists from more than 100 countries, and impacted the lives of approximately 1.3 million people worldwide; and has grown from a small grassroots organization born in Santa Fe to a nonprofit organization that supports international folk artists year-round. Today, the world's largest folk art marketplace respects every artisan and every handmade object, embraces humanism, honors long-standing cultural traditions, supports the work of folk artists and entrepreneurs, and provides an invaluable platform for the appreciation and preservation of folk art traditions around the world.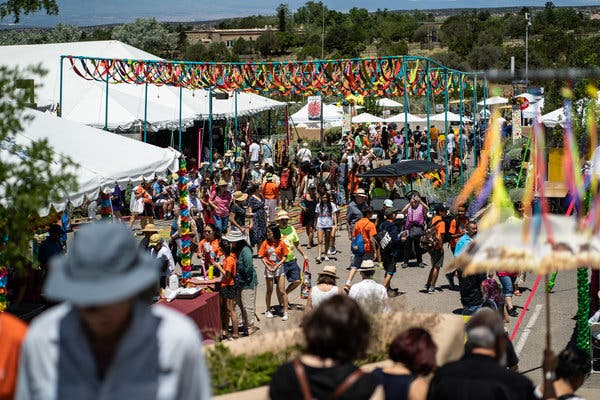 Santa Fe International Folk Art Market.
Source: https://www.nytimes.com/2019/08/23/arts/design/folk-art-market-santa-fe.html

The 17th Annual Santa Fe International Folk Art Market held in 2021 demonstrates how the past and the present are connected through design that transcends time and space, and how it can be innovative and inspiring; it also embraces the empowerment of women, both in terms of realizing their creative potential and in terms of presenting women as creative leaders and economic actors. In addition, the educational impact of the Folk Art Market cannot be overlooked - not only does it provide guidance to entrepreneurs in the arts, but it also provides hands-on support and skills training for artists, ensuring that their cultural heritage and traditional practices are recognized and protected, helping them to improve their quality of life and participate more effectively in the global marketplace.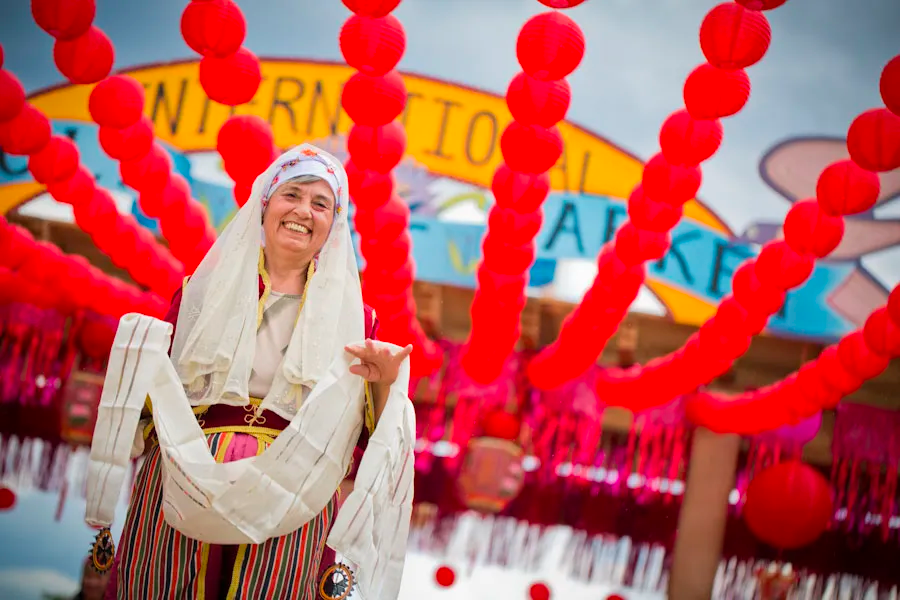 A Woman Artist in the 17th Annual Santa Fe International Folk Art Market (2021).
Source: https://abq.news/2021/07/folk-art-market-lures-global-artists/

  
Pachan Premjibhai Siju from India is one of the renowned global artists participating in this art event, he weaves garments that address the theme of climate change. Siju re-imagines contemporary shawl designs using natural materials including cotton, wool, bamboo, and silk, and dyes yarns inspired by the colors and textures of the earth and clouds. Santa Fe's artistic extravaganza helps the artist explore the path of innovation beyond traditional weaving methods and tell his unique story through innovation. His story reflects both about the impact of climate change on the world at large and the impact of innovation on weaving traditions. "I've been thinking about issues related to climate change, and I want my customers to focus on this global issue as well. Our original products were sustainable, but today's commercialized products often run counter to that. I want to create work that is both modern and sustainable." He says.
  

  ·Santa Fe Design Week
  
Santa Fe Design Week aims to cultivate folk art influencers, create dialogue in the design field, and bring open access to national and international markets.

In 2004, Santa Fe embarked on a new economic development strategy and decided to pursue further growth in the field of design. Since 2005 and 2006, Santa Fe has provided financial support for Design Week, an annual fall event that provides the internet and design professionals and the general public with the opportunity to learn about the field of interior design. The event is dedicated to promoting the advancement of the local community in the field of design through design exchanges, showcasing the diversity of interior design through house tours, and also contributing to the community by donating proceeds to local charities.
  

  ·Santa Fe Flea Market
  
The 11th Annual Santa Fe Flea Market takes place on June 11, 2022 at the International Folk Art Museum, which has a diverse collection with ample space to accommodate folk art from around the world.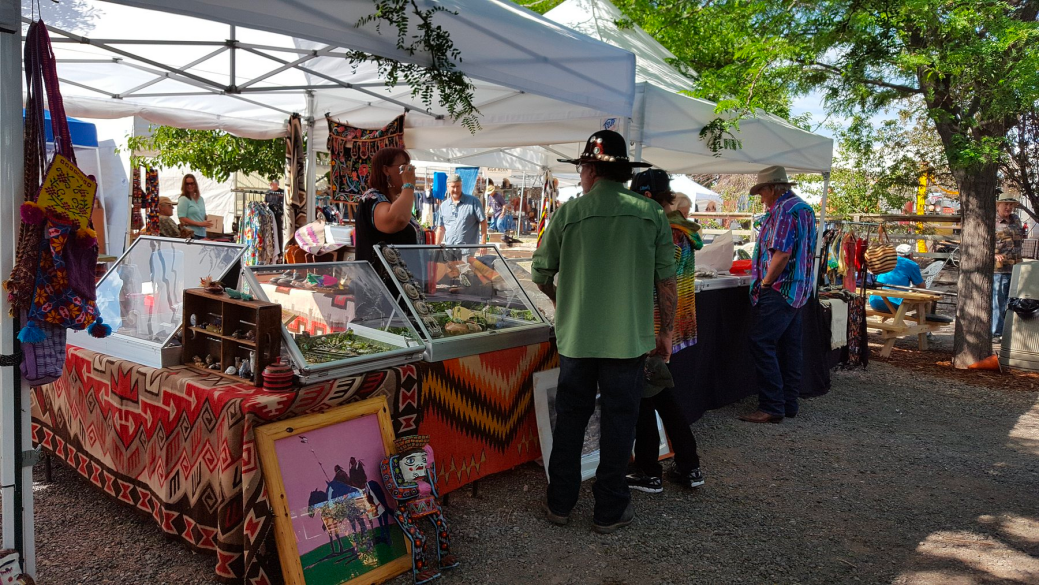 Santa Fe Flea Market
Source: https://www.tripadvisor.com/Attraction_Review-g60958-d12492152-Reviews-Santa_Fe_Flea_Market-Santa_Fe_New_Mexico.html

  
"This market has not stalled in our pace of storing collections during the pause between 2020 and 2021." So says Laurie Vander Velde, board member of Friends of Folk Art and co-chair of the event. "Now they are ready to go into 'strange' homes and provide purchasers with the pleasure of international folk art education and appreciation of the exhibition."
  
The collections include textiles, clothing, jewelry, sculptures, masks, toys, dolls, wood carvings, ceramics and more that people have donated and that are in working order and reasonably priced. "For new collectors, the flea market provides a platform to try out new things to collect," said FOFA board member Jean Moss. "And long-time collectors can appreciate never-before-seen pieces. It's a cultural sharing that benefits all participants." During the event, buyers with folk art pieces on their arms could be seen everywhere lingering in front of the stalls ......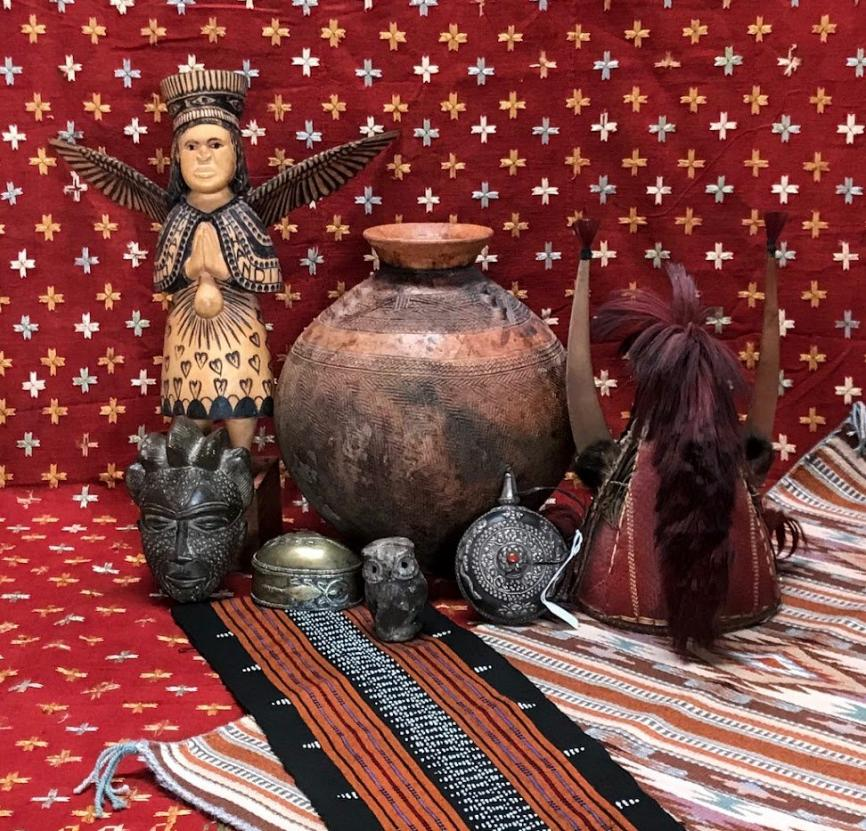 Antiques and textiles for sale at the Santa Fe Folk Art Flea Market.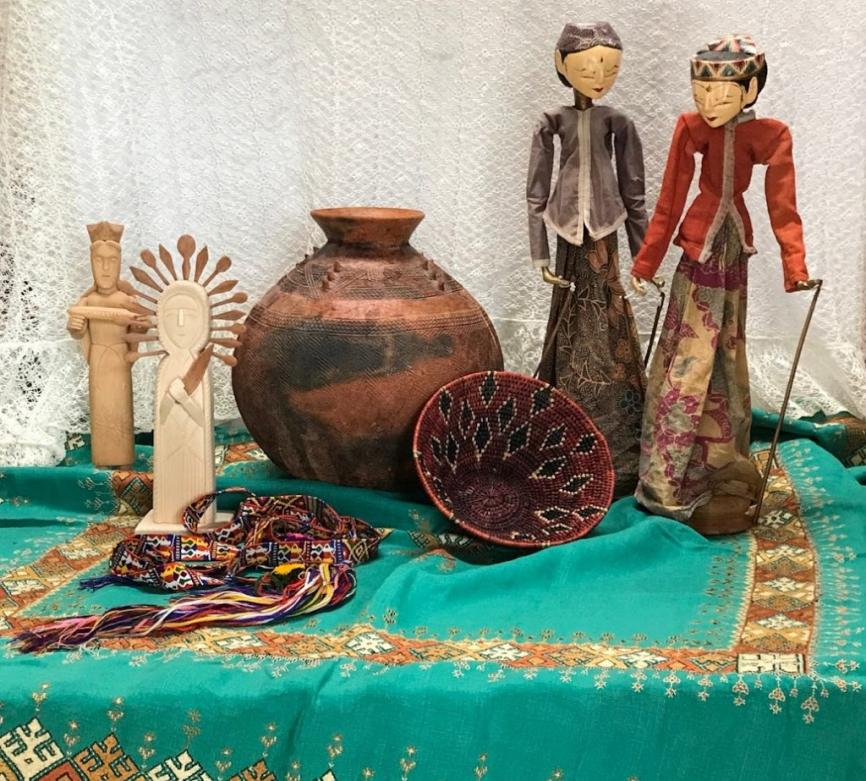 Selected collection at Santa Fe Folk Art Flea Market.
Source for the two photos above: https://www.seegreatart.art/folk-art-flea-santa-fe/

  
  ·Santa Fe Indian Market
  
Unparalleled in size and international reputation, the annual Santa Fe Indian Market has attracted more than 150,000 collectors, gallery owners and Indian culture enthusiasts to the historic Santa Fe Plaza and surrounding communities for a weekend of artist booths, juried art shows, parties, auctions, fashion shows and more.

The bustling Santa Fe Indian Market.
Source: https://www.santafe.org/shopping/shopping-around-town/markets/indian-market/

  
In 1922, the first Santa Fe Indian Market exhibited 3,500 works including pottery, baskets, textiles, silver, beadwork and paintings; as the largest and most important Native American art market in North America, the Santa Fe Indian Market initially focused on Native American art from the Southwest and over the years has expanded its scope to include Native American artists from all regions of the United States and Canada. Today, the market has grown from a weekend art market to one of the largest and most popular Native American art shows in the world, showcasing the works of more than 1,000 artists from over 100 tribes, with a high "presence" and popularity for jewelry, textiles, baskets, beadwork, quills, Pueblo wood carvings, drums, leatherwork and more.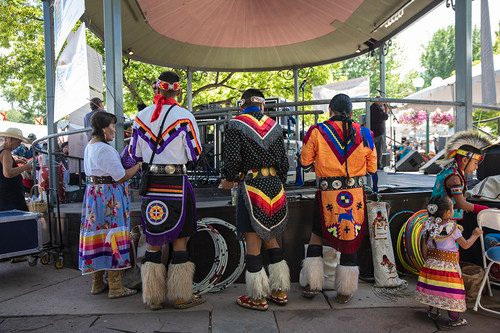 Indian art performers.
Source: https://www.seegreatart.art/final-schedule-for-2021-santa-fe-indian-market-set/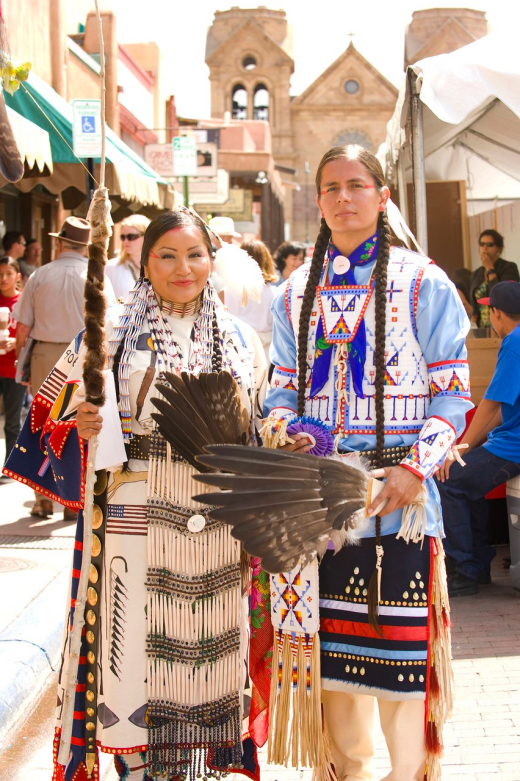 Native American people attending the Santa Fe Indian Market.
Source: TOURISM Santa Fe

"For collectors of Native American art and visitors to Santa Fe, 2022 will be different," said Kim Peone, executive director of SWAIA. "The City of Santa Fe is celebrating the centennial of the Indian Market, and many leading galleries and arts organizations have been producing Native American-themed content and curating performances by top Native American artists for almost an entire year."
  
Over the past century, the world of American Indian art has been significantly influenced and supported by the Santa Fe Indian Market and tourism, a market that provides income for artists and their families and connects the Native and non-Native worlds through interactions. It is through these interactions that Native artists disseminate local cultural history to non-Native visitors. From this perspective, the Santa Fe Indian Market is not only a marketplace, but a forum for cultural exchange and sharing focused on the visitor experience.
  
  ·Fiesta Fine Arts and Crafts Market
As a unique open-air arts and crafts market, the Fiesta Fine Arts and Crafts Market features a wide variety of treasures: from unique handmade jewelry, pottery, fine woodwork, and hand-blown glass to paintings, photography, chic clothing, and fashionable leather, there is a wide range of items on the market to attract people to stop by. At the Fiesta Fine Arts and Crafts Market, people can talk face-to-face with the artists, discuss their works together, and take home their favorite collections.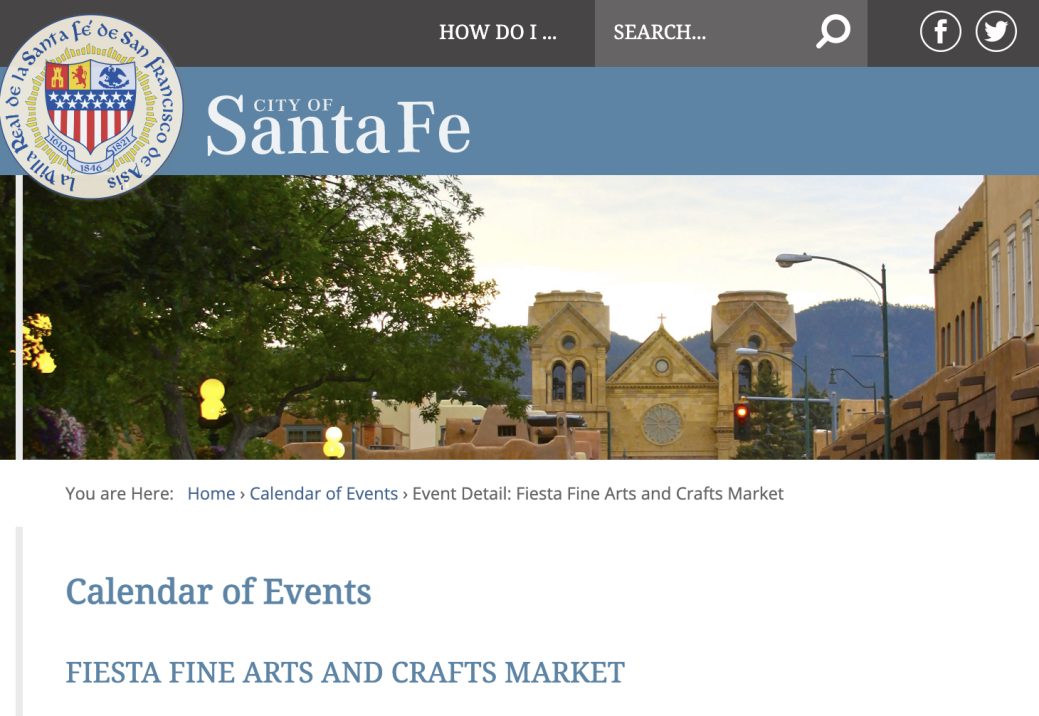 Fiesta Fine Arts and Crafts Market.
Source: https://www.santafenm.gov/events/detail/fiesta_fine_arts_and_crafts_market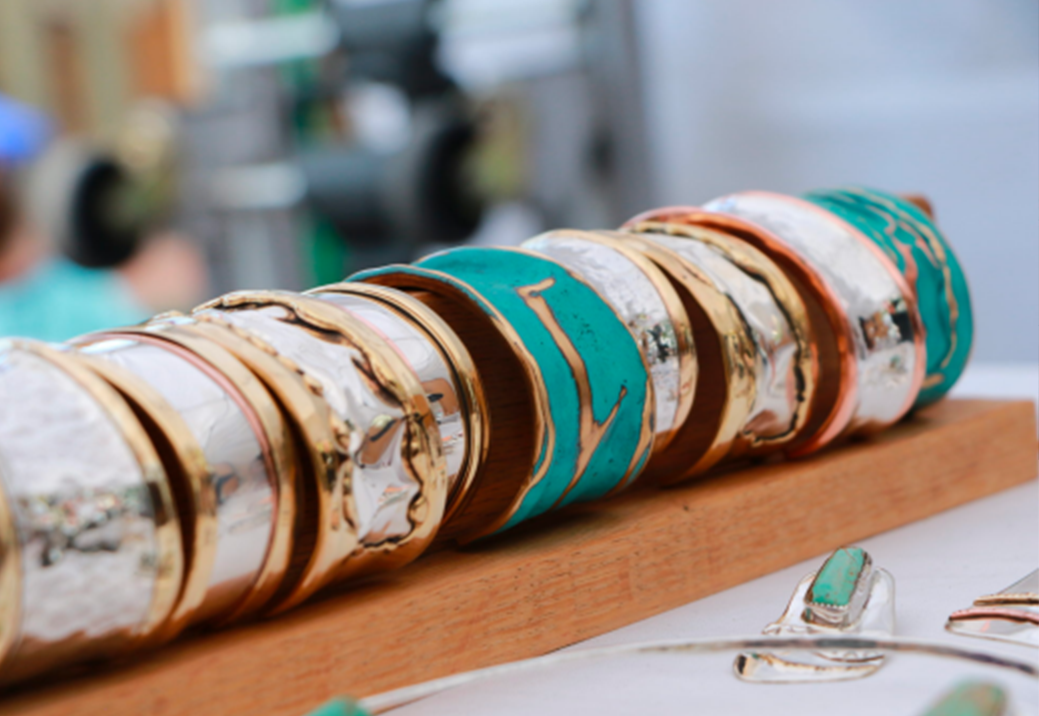 Jewelry on display at the Fiesta Fine Arts and Crafts Market.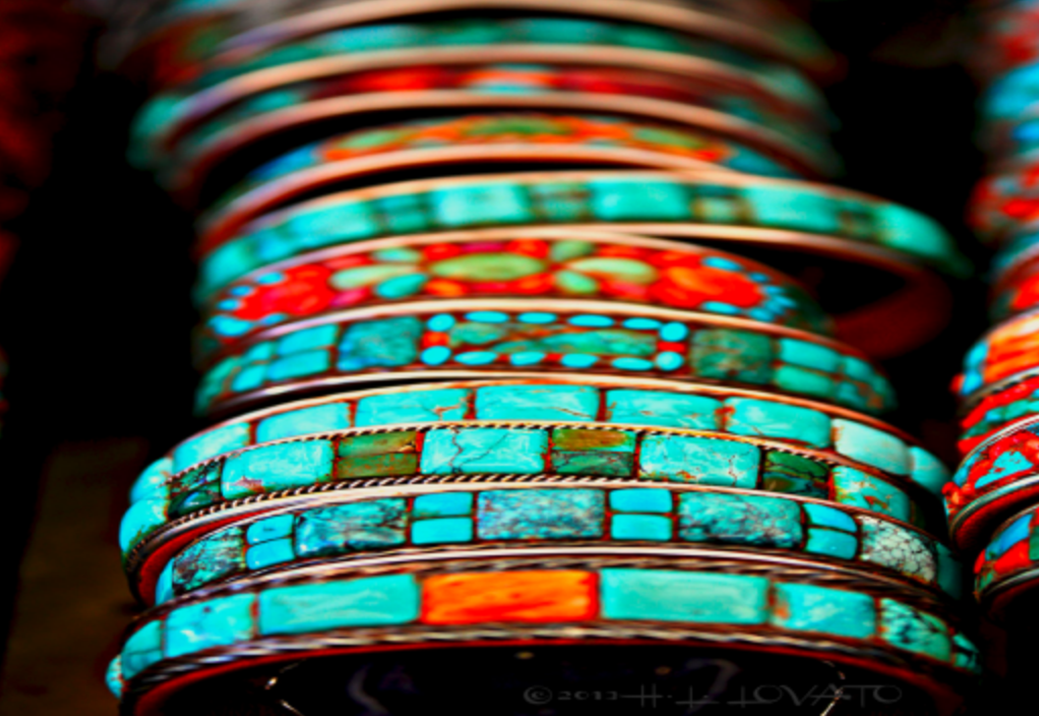 Jewelry on display at the Fiesta Fine Arts and Crafts Market.
Source: https://www.santafefiesta.org/schedule-of-events/labor-day-arts-crafts/
 
Here, you can not only find small collectible items, but also taste snacks from various countries - people are immersed in a world of food made up of tacos, Chilean cheeseburgers, honey fried bread, corn on the cob, candy apples, cotton candy, and feel the buzz and energy of the carnival.

  ·Top 10 Cities in the World for Art Lovers
  
As one of the six UNESCO Creative Cities in the United States, Santa Fe believes that culture, craft and folk art remain central to city life, whether in the past, present or future. Artists' studios and the stores and booths that sell their work occupy the vast area of downtown Santa Fe. In the 20th century, American master artist Georgia O'Keeffe first visited New Mexico in 1929 and settled here 20 years later. Her work can be viewed at the Georgia O'Keeffe Museum. The streets surrounding Santa Fe Plaza are also home to the New Mexico Museum of Art and the Museum of Contemporary Native Arts, an inspirational muse for every dreamer and artist who comes to visit. 
  
Santa Fe is recognized as the world's best city for art galleries and museums, and a new survey by Money.co.uk shows that among the world's most art-centric and culturally rich cities, Santa Fe is right up there with Venice, Vienna, Miami and Milan. In a recent article published by Travel & Leisure magazine entitled "10 of the World's Best Cities for Art Lovers," Santa Fe was ranked No. 7, with only two American cities ranked higher: Miami at No. 2 and San Francisco at No. 5.
  
  ·Life in Art
  
Santa Fe Mayor Alan Webber said, "Santa Fe is not just the state capital, it's also the arts and culture capital of the world. We make the arts, we promote the arts, we market the arts - and most importantly, we live in the arts." In Santa Fe, one percent of the hotel tax is used to support the development of local arts groups, help keep the arts community thriving, employ artists, and attract tourists. In addition, two percent of the city's building and infrastructure costs are used to support site-specific public artworks. The Railyard, which brings together a large number of galleries and restaurants, and the Santa Fe Farmers Market, one of the most well-known produce markets in the United States, are prime examples. The Santa Fe University of Art and Design enhances Santa Fe's creative economy by preparing creative young people for the city.
  
As the UCCN Creative City of Crafts and Folk Art, Santa Fe envisions developing partnerships and pilot projects that contribute to the development of creative tourism; organizing exchanges among UCCN members on areas of common interest to enhance the creation and production of cultural products and participation in cultural life; participating in meetings and conferences aimed at sharing research, case studies and practical experiences that promote the integration of cultural and creative industries into local development; and providing training and capacity building for artists, managers and officials to facilitate and participate in various exchanges.