The UNESCO Beijing Office, in collaboration with the Chinese National Commission for UNESCO, the Changsha Municipal Government, and the Nanjing Municipal Government, organized the 2022 International Youth Forum on Creativity and Heritage along the Silk Roads: Youth creativity to promote intercultural dialogue and tackle global challenges (hereinafter "the 2022 IYF") online in Beijing, Changsha and Nanjing simultaneously on 15 December 2022. Around 90 youth from 44 countries participated in the Forum to share and exchange their thoughts, stories and actions on the topics.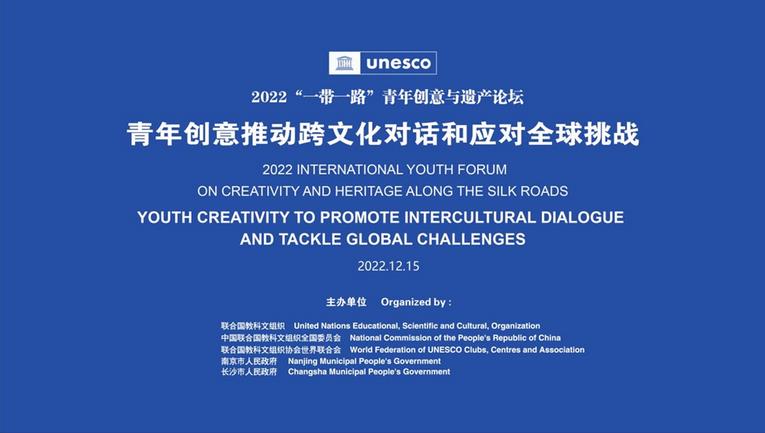 The 2022 IYF consisted of a plenary session and two parallel sessions that respectively focused on "Promoting Youth Development for a Bright Future" and "Creativity and Heritage for Sustainable Urban Development".
The plenary Opening Session was moderated by Mr. Qin Changwei, Secretary General of the Chinese National Commission for UNESCO. Ms. Gabriela Ramos, Assistant Director-General for the Social and Human Sciences of UNESCO, encouraged youth actions and underlined the importance of youth power in her opening remarks. UNESCO has been committed to providing support for global youth-leading solutions, listening to youth voices and involving youth participation. She also called on the countries along the "the Belt and Road" to build a platform for youth communication and cooperation to comprehensively support youth development and work with youth to build a peaceful, safe and prosperous world.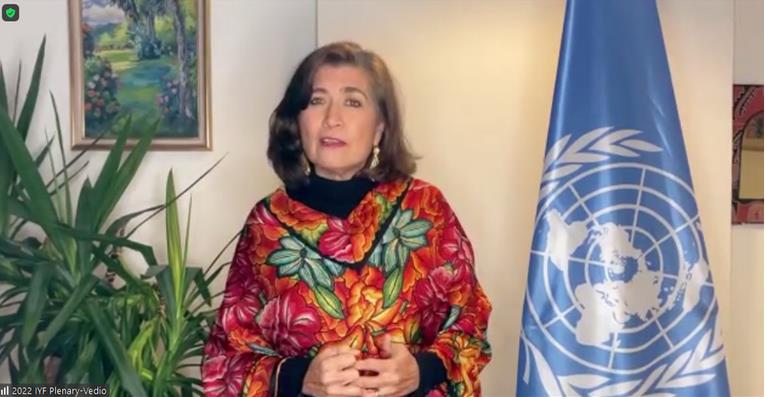 Mr. Qin Changwei delivered the opening speech on behalf of Mr. Tian Xuejun, the Vice Minister of Education and the Director of the National Commission of China for UNESCO. Mr. Tian Xuejun encouraged youth to take on responsibility bravely, to jointly build a better future of the "the Belt and Road", to enhance mutual understanding, mutual respect and mutual trust with an open and inclusive attitude, and to break down barriers and build a bridge of peace.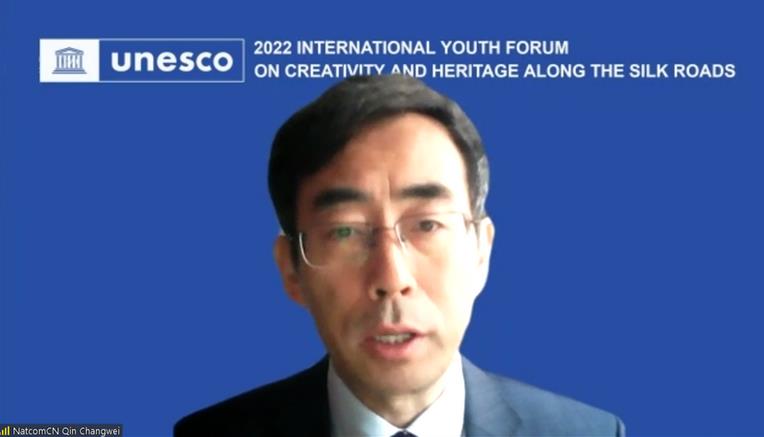 The Changsha and Nanjing Municipal Governments also sent their messages to celebrate the 2022 IYF. Mr. Xia Xinmin, Mayor of Nanjing, pointed out the crucial status of Nanjing in bridging sister cities along "the Belt and Road". Nanjing, as the first city in China designated as UNESCO Creative City of Literature, needs to amplify the profound effects of literature in intercultural communication. Mr. Zheng Jianxin, Mayor of Changsha, emphasized Changsha's contribution to media arts and youth creativity. He suggested that youth, as the future of development, should respect the diversity of world civilizations, in order to better tackle various global challenges jointly.
After the Opening Session, professionals and youth representatives were invited to give keynote speeches on heritage along the Silk Road, Maritime Silk Road, UNESCO Intercultural Dialogue Framework, and Digital Inclusion.In the afternoon, 4 panel discussions were carried out. The Parallel Session 1 contained two panel discussions, Panel A "Imagine 2030 – Global Challenges and Opportunities for Youth" and Panel B "Role of Media Arts to Boost Intercultural Dialogue for a Bright Future". Likewise, Parallel Session 2 contained two panel discussions, Panel C "Youth Creativity to Promote Heritage Conservation in Sustainable Urban Development" and Panel D "Literary Creativity to Encourage Intercultural Dialogue".
During the Parallel Session 1, youth participants actively shared their own opinions on promoting youth development for a bright future. In Panel Discussion A, youth participants shared their perceptions of global challenges and opportunities for youth in 2030, including the continuously deteriorating climate system and ecosystem, economic recession, sluggish job market and excessive entertainment. While in Panel Discussion B, youth representatives discussed the role of media arts to boost intercultural dialogue for a bright future, as media arts are the most limitless and powerful tool to express feelings and communicate.
Participants of the Parallel Session 2 had a dynamic discussion on creativity and heritage for sustainable urban development. In Panel Discussion C, they proposed different ideas about how to boost youth creativity to promote heritage conservation in sustainable urban development. In Panel Discussion D, youth participants agreed that literary creativity could encourage intercultural dialogue, and advised to construct a favorable and creative atmosphere to remove barriers to intercultural dialogue.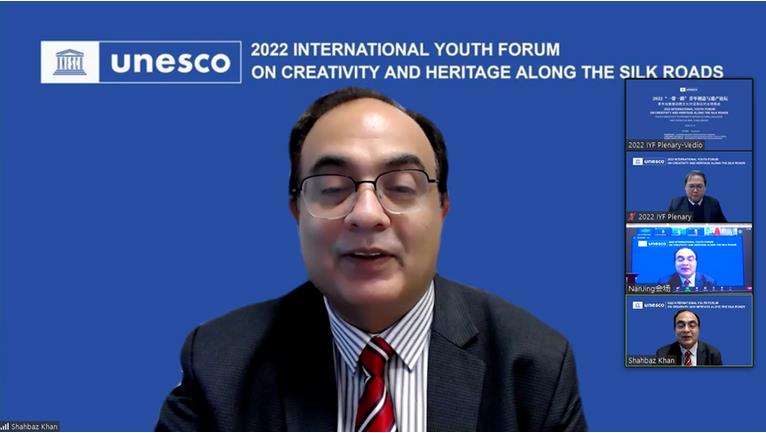 The closing session was moderated by Mr. Tee Wee ANG, Programme Specialist of Social and Human Sciences at UNESCO Beijing Office. Professor Shahbaz Khan, Director of UNESCO Beijing Office applauded the outcomes of the 2022 IYF and reaffirmed the significance of youth engagement. Professor Shahbaz Khan claimed that, under a series of global challenges such as the COVID-19 pandemic and climate change, the global instability is increased. Youth need to fully participate in global issues, otherwise it is difficult for the world to achieve the sustainable development goals.
Ms. Cui Ying, Deputy Secretary-General of the Chinese National Commission for UNESCO, reaffirmed the commitment to youth development and encouraged youth to uphold the Silk Roads Spirit to make the world more sustainable and prosperous. In the end, Ms. Cui Ying delivered her best wishes to 2022 International Youth Forum and appreciated every youth's participation and involvement in global solutions and intercultural dialogues.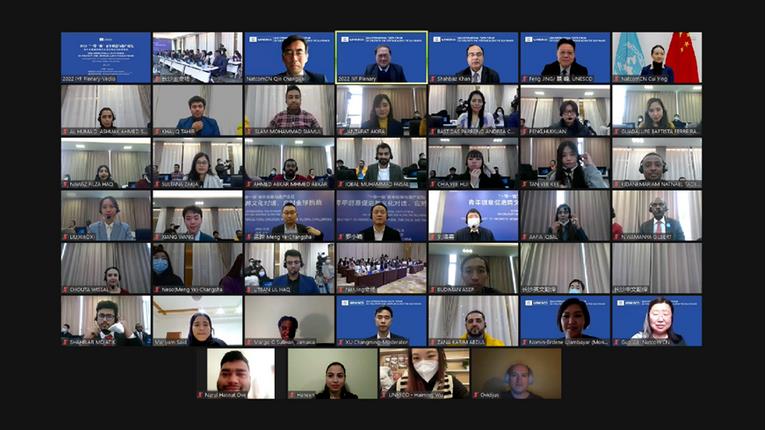 UNESCO has collaborated with the Chinese National Commission for UNESCO and the municipal governments to organize the International Youth Forum since 2017, with the aim to provide a platform of exchange, mutual learning, and mutual inspiring for youth people all around the world.