From the beginning of China's successful bid to host the Winter Olympics, "High-Tech Winter Olympics" have become one of the key words in the preparatory work for the Winter Olympics. "Looking back on the work of the High-Tech Winter Olympics in the past few years, I can sum it up in three words: planned, effective and promising," noted Yu Hong, head of the technical department of Beijing Organizing Committee for the 2022 Olympic and Paralympic Winter Games (BOCOG), at a BOCOG press conference of High-Tech Winter Olympics on November 18, 2021.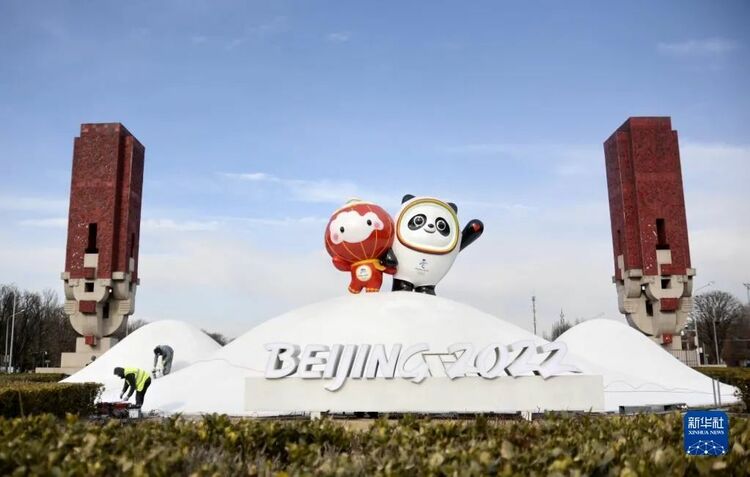 (Photo via Xinhua News Agency)
Early in the preparations for the 2022 Beijing Winter Olympics, China's Ministry of Science and Technology, in collaboration with relevant departments, worked out the "Action Plan for Science and Technology at the Winter Olympics (2022)," which covered eight aspects, namely zero-emission energy supply, green travel, 5G sharing, smart game-watching, sports technology, clean environment, safe hosting of the Games, and international cooperation. From competitions to game-watching, sci-tech innovation achievements everywhere highlighted the essence of "High-Tech Winter Olympics". All parties engaged in the "High-Tech Winter Olympics" worked hard to make the Beijing Winter Olympics the most high-tech ever. Sci-tech innovation not only helped make the Winter Olympics a success, but also contribute to sustainable development of winter sports in the future.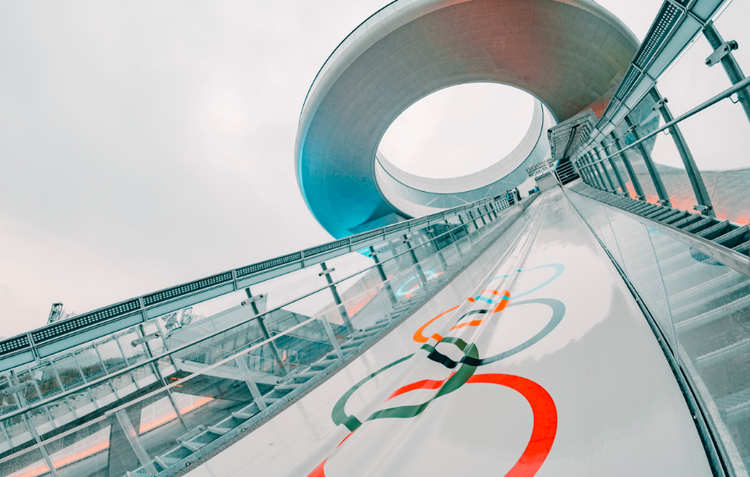 Green Technology at the Winter Olympics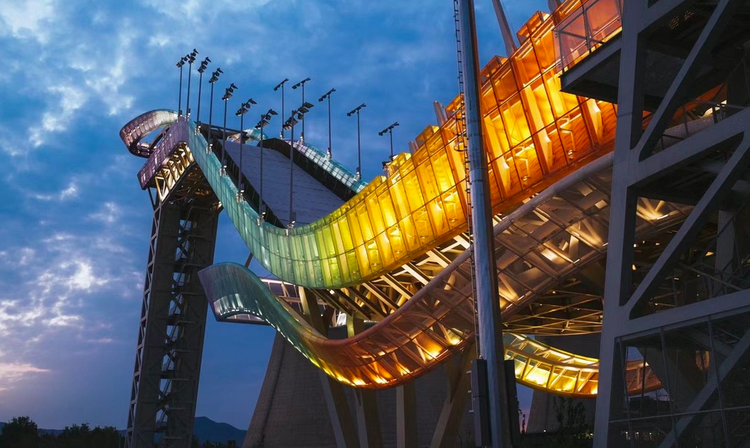 Green and sustainable development cannot be achieved without the support of advanced science and technology. The Beijing Winter Olympics achieved many breakthroughs in green technology. How did science and technology play a big role in venue construction, transportation, energy supply and ecological protection?
Large-Scale Application of Carbon Dioxide Transcritical Direct Cooling Ice Machine System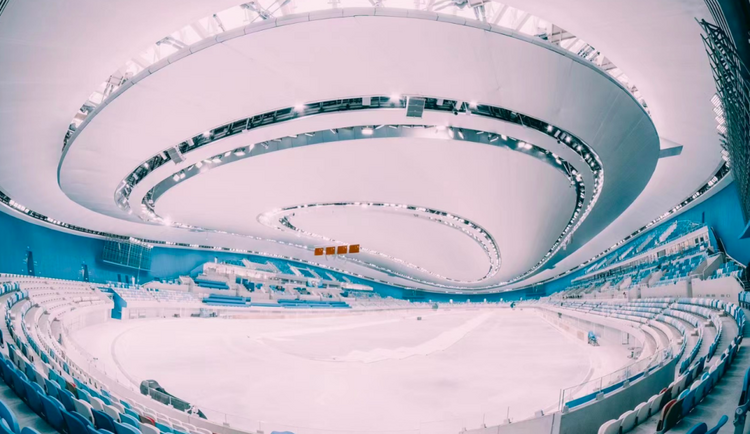 Interior view of the National Speed Skating Oval (Photo by Martin)
The National Speed Skating Oval was the first Winter Olympic venue to propose the use of carbon dioxide transcritical direct cooling ice machine system. With an ice surface area of 12,000 square meters, it is the largest multi-functional ice surface in the world with carbon dioxide transcritical direct cooling ice making technology. Carbon dioxide refrigerant was used in four venues, including the National Speed Skating Oval and the Wukesong Sports Center, marking the first large-scale application of the technology in the history of the Winter Olympics. This not only reduced the ozone layer damage caused by conventional refrigerants, but also recycled a large amount of high-quality waste heat generated during the refrigeration process, which was 30% more efficient than traditional refrigerants.
Photovoltaic and Wind Energy Support Green Power Supply of the Winter Olympics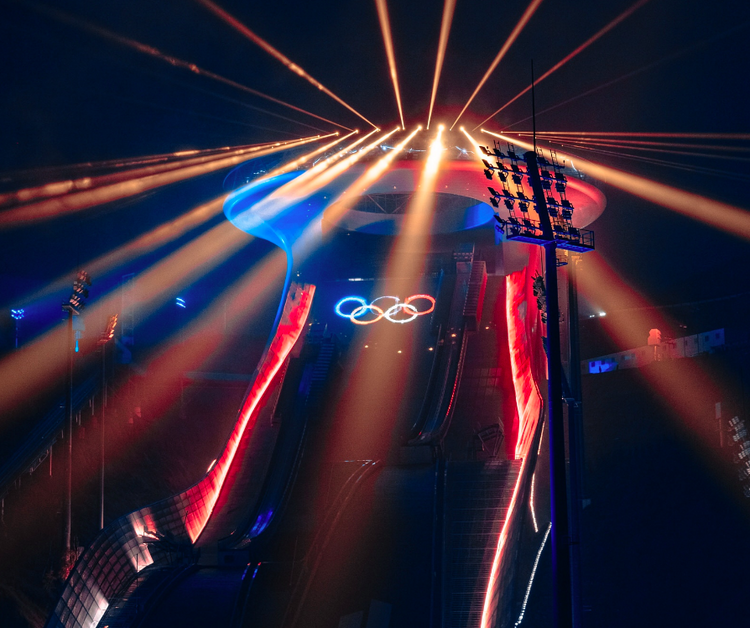 Green power lights up the splendid "Snow Ruyi". (Photo by Martin)
With the construction of the world's first 500-kV flexible DC grid project, the Beijing Winter Olympics has become the first Olympic Games in history to use 100% green electricity such as photovoltaic and wind power. This power grid project benefited from the rich clean energy reserves in Zhangjiakou and Yanqing Competition Zones. Moreover, the 500-kV flexible DC power grid in Beijing-Tianjin-Hebei region adopted many world-leading new technologies, making it the DC power grid with the highest voltage level and the largest transmission capacity in the world.
"Sponge Competition Zone" Highlights Ecological Protection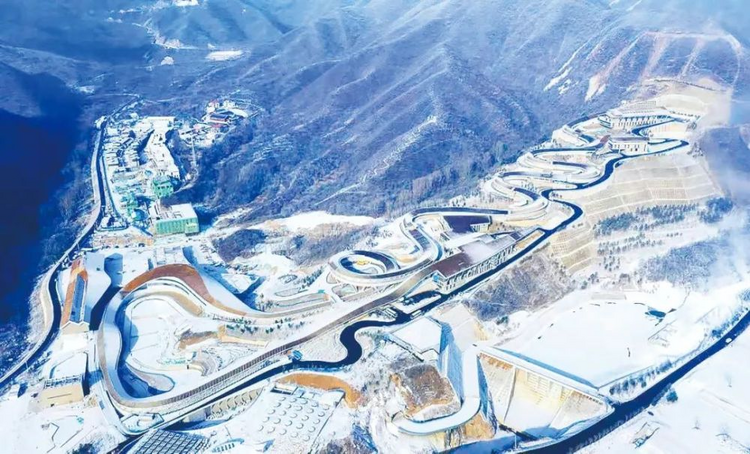 National Sliding Center ("Snow Dragon")
Saving water and recycling water resources, protecting the surface water and groundwater environment. This was the ultimate goal of "Sponge Competition Zone". The integrated design of surface water, rain water and artificial snow-melt water in Zhangjiakou Competition Zone of Beijing Olympic Winter Games realized the 100% collection, treatment and reuse of water resources, and achieved a win-win outcome of snow making water and ecological environment protection. The National Alpine Skiing Center, located in the Yanqing Competition Zone, built a snowmaking and water diversion system with Tangba and reservoirs as the core. In this ski resort, the collected and stored rainwater, natural precipitation surface water and artificial snow-melt water were preferentially used as artificial snowmaking water sources. It was a "sponge competition zone" that realized self-collection, treatment and reuse of all water resources.
Clean Energy Vehicles Provide Transportation Services for the Games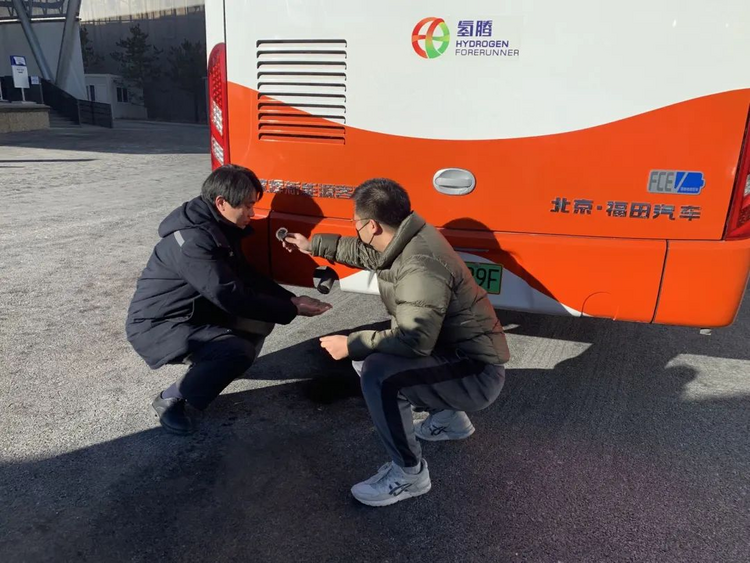 Hydrogen-fueled new energy vehicle with water discharge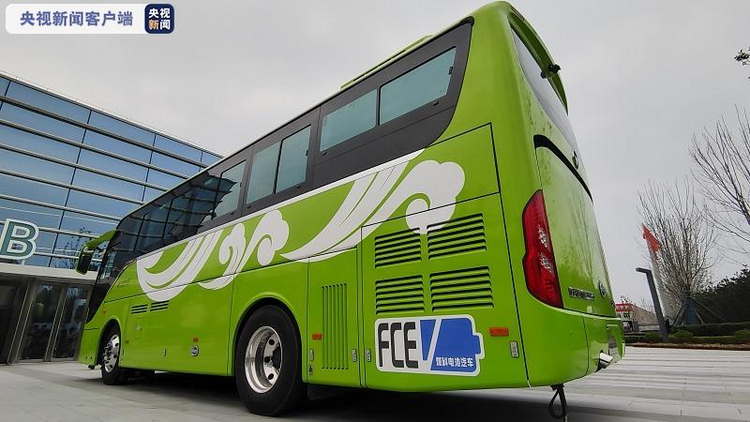 (Photo via CCTV News)
Among the event transportation service vehicles for the Beijing Winter Olympics, energy saving and clean energy vehicles accounted for 100% of passenger cars and 85.84% of all vehicles, the highest in the history of the Winter Olympics. During the Beijing Winter Olympics and Paralympics, the use of such vehicles was expected to reduce carbon dioxide emissions by about 11,000 tons, equivalent to a year's carbon sequestration of more than 50,000 mu (about 33.33 square kilometers) of forest.
Ice and Snow Acceleration
The endless innovation of science and technology provided strong technical support for the scientific competition of athletes during the Winter Olympics. Materials science, meteorological science, AI, big data and other technologies have been precisely applied to athletes' training and competition, empowering them with the "wings" of science and technology. The integration of science and technology into ice-snow sports allowed athletes to achieve "ice and snow acceleration" during the Games.
New Breakthroughs in Meteorological Science and Technology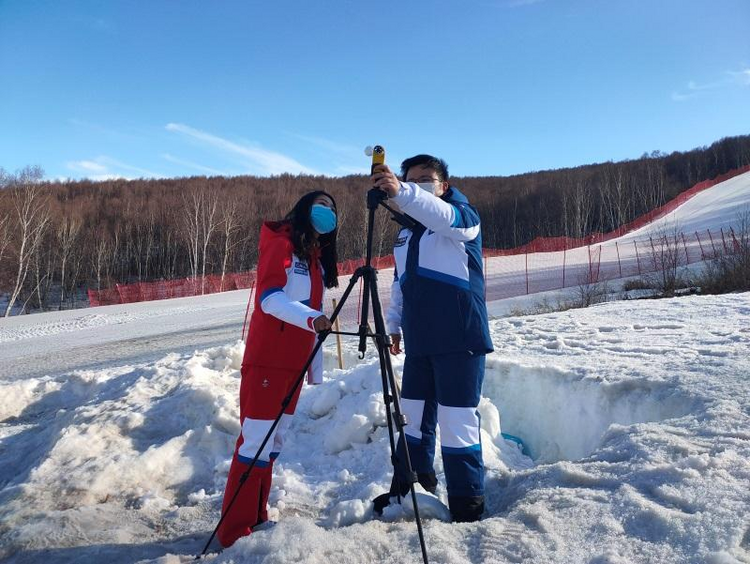 On March 20, 2021, the meteorological forecast service team of Zhangjiakou Competition Zone carried out meteorological equipment maintenance and on-site observation at Genting Snow Park in Chongli. (Photo via Hebei Daily)
The Winter Olympics witnessed "two firsts" in China's meteorological sci-tech innovation. First, it was the first time to carry out three-dimensional and systematic meteorological observation experiment and analysis research featuring micro, small and medium scale in winter amidst the mid-latitude mountainous areas of China with complex terrains, forming an encrypted scientific observation experiment data set. Second, for the first time, the "100-meter and minute-level" operational weather forecast ability has been achieved, and an independent and controllable "100-meter level" weather forecast technology system has been developed for the Winter Olympics. Breakthroughs in meteorological science and technology have remarkably improved the 0-24 hour forecast accuracy of key meteorological elements during the Winter Olympics amidst complex terrains.
Wind Tunnel Laboratory
The wind tunnel was a main device for aerodynamics research, and its biggest characteristic was the ability to control the wind speed. According to the relative motion principle, the wind tunnel could simulate the motion state of sports events, and through the quantitative aerodynamic force, the researchers could assist the coaches and athletes to carry out posture optimization, formation improvement and strengthened training. In addition, wind tunnel technology could also help R&D teams develop low-wind resistance, high-performance sports equipment, and assist design teams in building infrastructure for the Winter Olympic venues.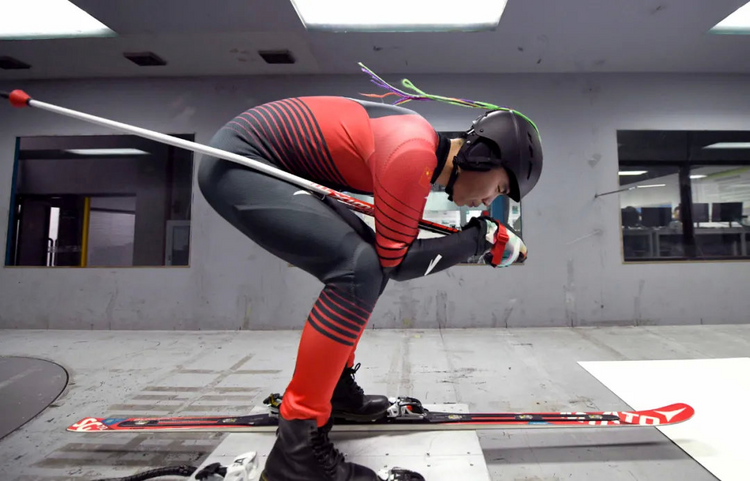 AI-Assisted System in Winter Olympics
Xiaoice AI Scoring System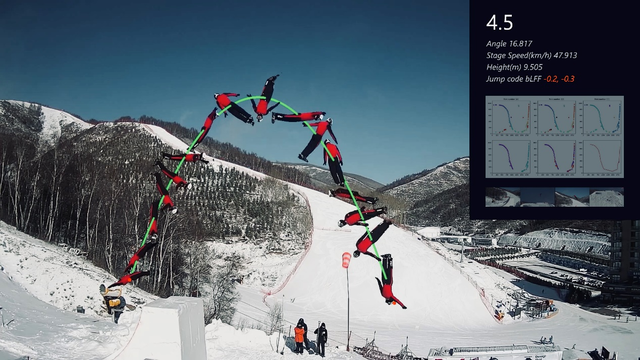 The Beijing Winter Olympics introduced Xiaoice AI scoring system as an assistant. Xiaoice was the first AI system in the world that could independently make consistent and complete evaluation with professional human judges based on athletes' movements and gestures. It could not only help athletes train before the competition, but also assist human judges during the competition and complete the scoring of athletes.
AI Automatic Collection and Analysis System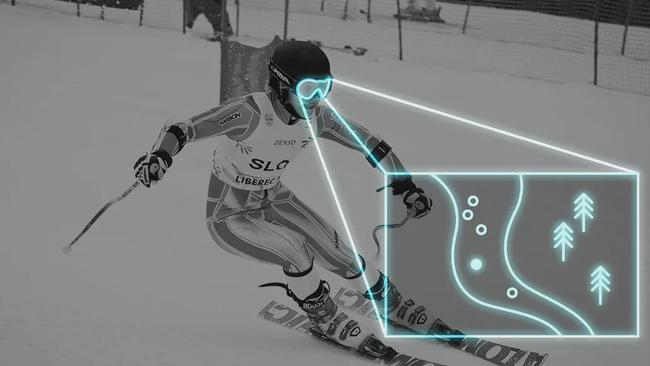 AI technological analysis of athletes' movements used biomechanical methods to study human movements. Through the motion capture and technological analysis of athletes, the AI technology based on the principle of deep learning was adopted to establish a neural network model and realize the automatic computer recognition of human joints in the movement video. The system has been used for the training of Team China in skeleton, figure skating, ski jumping and other events, providing important scientific support for athletes preparing for the Beijing Winter Olympics.
"Speed, Protection, Warmth, and Beauty"! China Unveils "Battle Armor" for Winter Olympics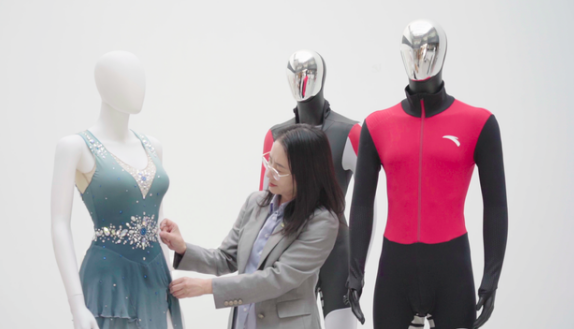 The technological breakthrough in the outfit making for Winter Olympic athletes participating in ice-snow sports has directly filled the gap in the R&D of China's winter sports outfits, ushering in a new era of the country's independent R&D of high-performance Winter Olympic suits. Such clothes featuring "speed, protection, warmth, and beauty" have become a kind of sci-tech equipment.
Speed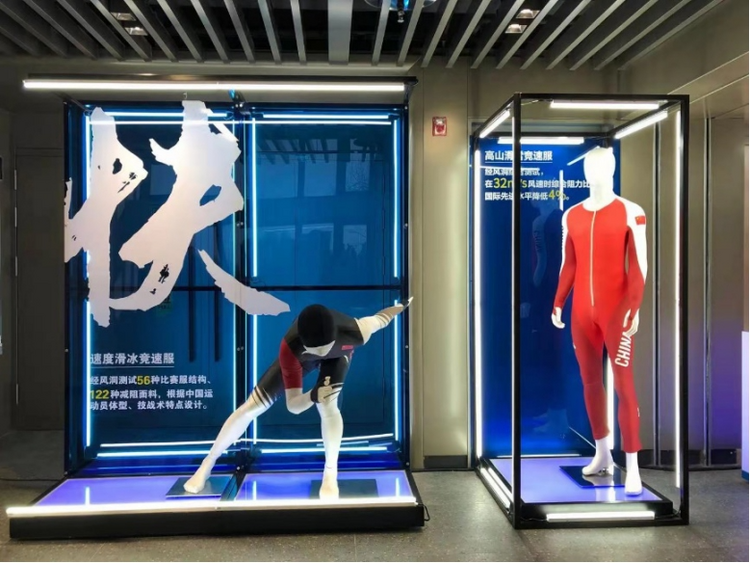 Outfits for short track speed skating, alpine skiing and other sports events highlighted the pursuit of "speed", taking into account the comprehensive reduction of resistance. Contrary to people's imagination, it was not that the smoother the surface, the less wind resistance, but that a textured pit fabric could effectively reduce wind resistance. Just to determine what shape the bump on the garment's hat should be and where it should be applied to achieve the lowest drag coefficient, the R&D teams designed more than a dozen versions and compared them in a wind tunnel. In the end, the overall drag coefficient of the speed skating suit was reduced by 10%, far exceeding the performance of the suit provided abroad.
Protection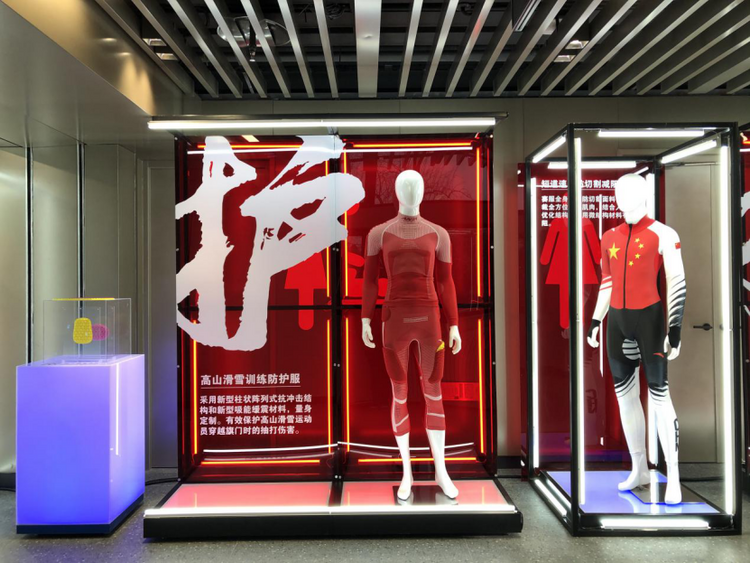 Winter sports events featured high speed, complex environment, and a high risk of injury, including two major injuries of collision and stabbing. Alpine skiing training protective clothing adopted a new columnar array anti-impact structure and a new energy and shock-absorbing material, which could effectively protect alpine skiing athletes from whipping injury when they crossed the flag gate. Short track speed skating suits used anti-cutting fabrics to comprehensively protect athletes' bodies while taking into account muscle compression and drag reduction.
Warmth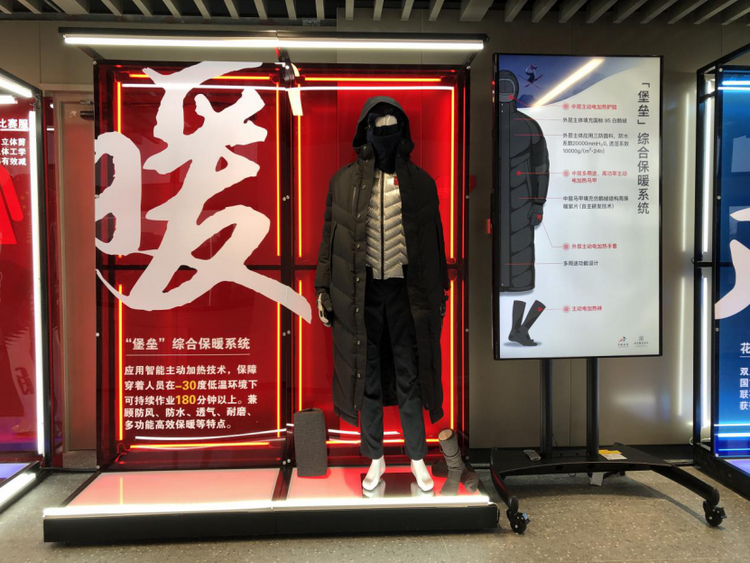 "Warmth" was a common requirement for winter sports events. This could be achieved in two ways, namely improving fiber thermal insulation rate and using active heating technology. The R&D team specially developed the "Fortress" comprehensive thermal insulation system, which integrated windproof, waterproof, breathable, and wear-resistant functions in efficient thermal insulation. The system included active electric heating for face protection, vests, gloves, socks, and seat cushions. The outfit could operate for more than 180 minutes at minus 30 degrees Celsius, providing all-round protection.
Beauty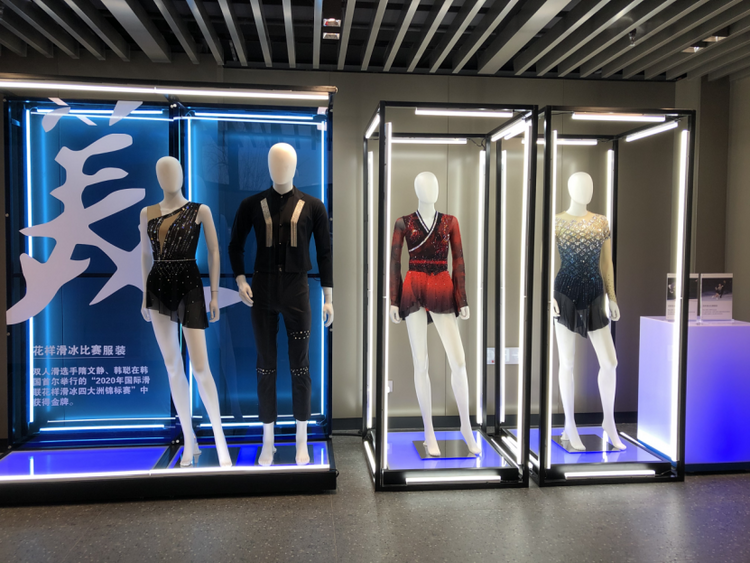 "Beauty" was nowhere more evident than in figure skating. Each suit was designed according to the theme of music and dance, and integrated the elements of outfit customization, customized according to the body size of athletes. According to Liu Li, professor at Beijing Institute of Fashion Technology and general director of the key High-Tech Winter Olympic project of "Key Technologies of High-Performance Clothing Research and Development for Winter Sports and Training Competitions" sponsored by the National Key Research and Development Program of China's Ministry of Science and Technology, "Suzhou embroidery was used in one of our competition outfits. It took 250 hours for the embroiderers to narrow the stitch length to 1/5 of the normal one to create a gorgeous effect. Athletes wearing it danced on the ice and gained the spotlight."
Smart New Experience
5G, AI and other digital technologies injected "smart" genes into the Winter Olympics, sci-tech Internet promoted two-way availability and flow of innovation resources, smart technology empowered communication, and facilities boosted connectivity. The rapid development of digital technology has brought convenience to more people and strengthened people-to-people ties.
Digital Viewing
A host of digital technologies have been introduced for the 2022 Beijing Winter Olympics to bring brand new viewing experience, such as the following "black technologies".
A New Model for Broadcasting the Winter Olympics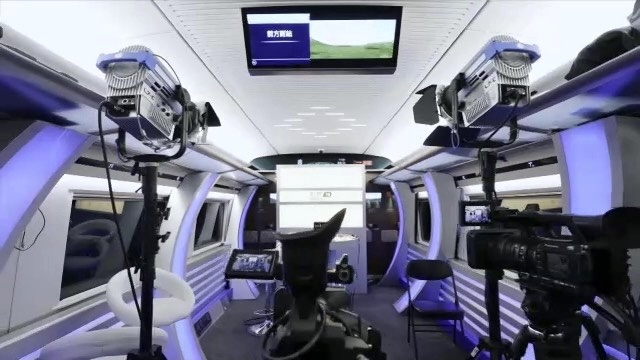 Beijing Winter Olympic high-speed train with 5G UHD live-streaming studio (Photo via Xinhuanet)
Broadcasting, indispensable in the modern Olympic Games, enabled audiences around the world to experience the wonderful performances of athletes no matter where they were. Thanks to 5G signal coverage, broadcasting also had a new mode. Cloud broadcasting technology leveraged 5G network featuring high speed and low latency, and only collected content in the front through video capture devices and display screens such as cameras and viewing screens, and then rebroadcast the content through cloud editing in the background to ensure real-time interview between athletes and journalists.
Watching the Olympics in a Different Way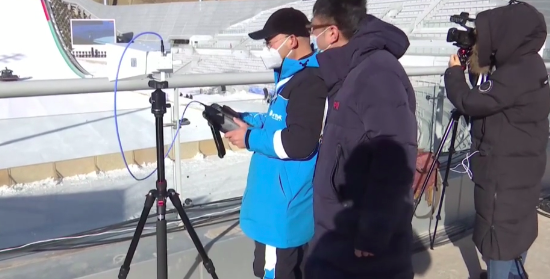 The 2022 Beijing Olympic Winter Games overcame the limitations of fixed perspective and passive viewing in traditional broadcasting, allowing viewers to interact remotely and autonomously. Continuous changes of their perspectives and positions offered immersive viewing experience. Viewers were able to choose from 360-degree viewing perspectives, and even a "bullet time" effect (simulated variable speed effect of computer-aided photography) could be added to the sporting action to stop it or play it back at a slower speed.
Winter Olympic AI Sign Language Anchor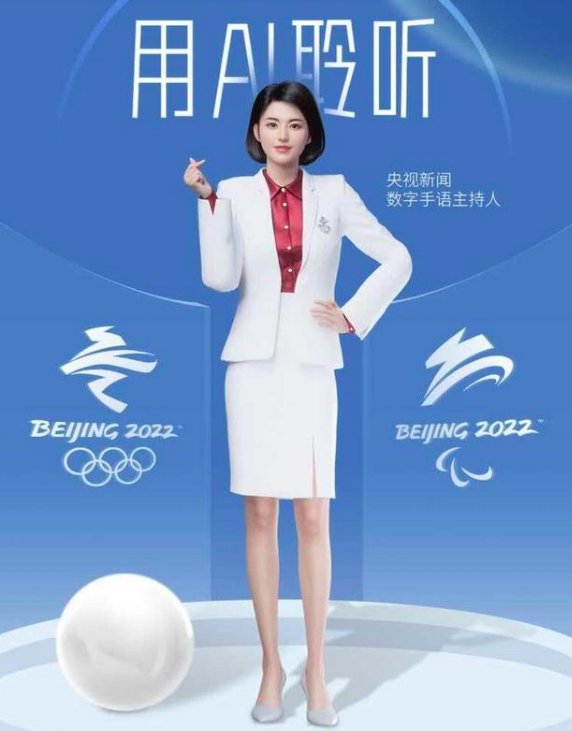 Using technology to overcome the sound barrier, the Winter Olympics was accessible to the hearing-impaired. Statistics show that about 430 million people around the world suffer from moderate or higher levels of hearing impairment, and 27.8 million people in China are hearing-impaired. Starting from the 2022 Beijing Winter Olympics, AI sign language anchors will work all year round to provide real-time translation for the hearing impaired.
Intelligent Supportive Services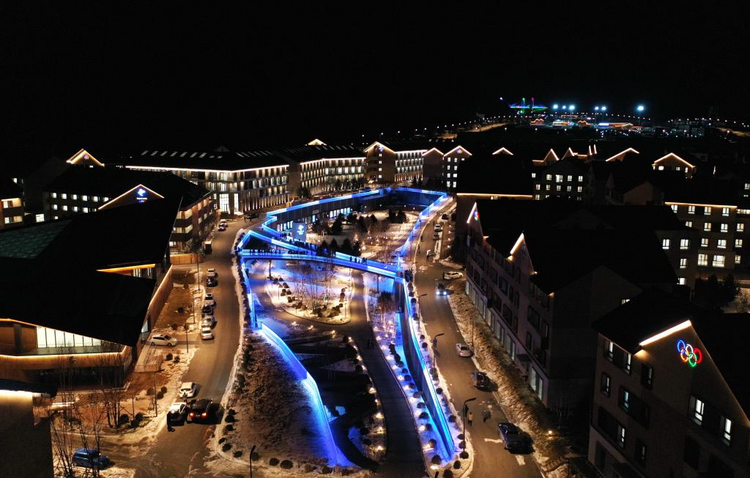 Night view of Zhangjiakou Winter Olympic Village on November 23, 2021 (Photo via Xinhuanet)
A variety of comprehensive and complex services were provided to ensure the smooth holding of the Winter Olympics. Notably, science and technology became an important supportive force behind the scenes.
Audience Seats with Inbuilt Heating Device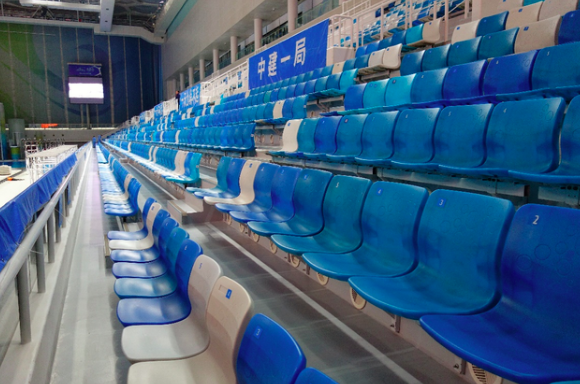 Clothes and seats with inbuilt heating device could keep audiences warm when they watched ice and snow events. Seat plates were equipped with sensors to determine whether there were people sitting and only heated the seats with spectators to avoid heat loss and energy waste. A seat plate with an encapsulated shell was laid on the surface of the audience seats, with inbuilt graphene sheets. The heating function of graphene was exerted through real-time electricity, so that the temperature of the seat plate surface would rise rapidly.
Power Inspection "Robot Dog"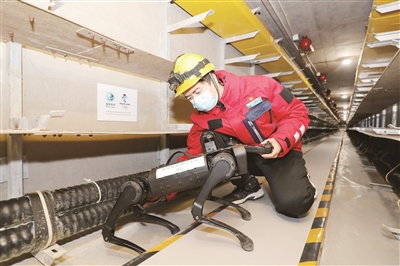 In early January 2022, support personnel of State Grid Beijing Cable Company carried out emergency support drill with inspection robot dogs. (Photo via China Energy News)
During the Olympic Winter Games, technical personnel conducted remote power inspection with "robot dogs", completing routine inspection, meter recording, infrared temperature measurement, simple operation, background analysis and other work amidst the complex terrains of venues.
24-hour Smart Canteen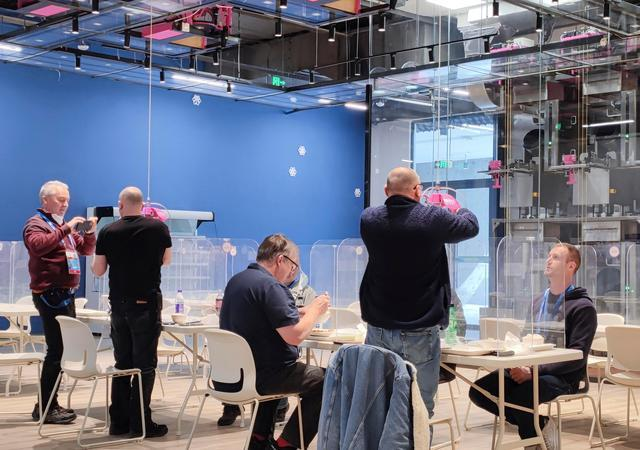 On January 10, 2022, diners experienced smart food delivery service at a canteen for Winter Olympic reporters. (Photo via Xinhuanet)
The smart canteen was in the Main Media Center for Beijing Olympic Winter Games, which sat in the main building of the second phase project of the China National Convention Center. All the equipment could operate 24 hours a day. Once the dish was out of the pot, the system would deliver it to the table "from the sky" via an aerial track and trolley.
Smart Thermometer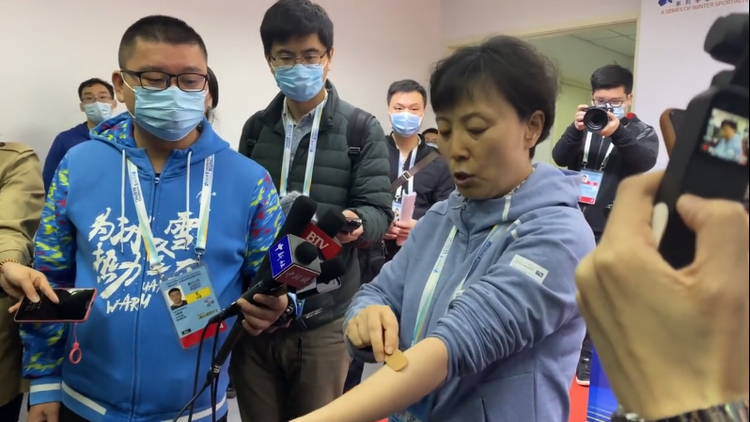 The smart thermometer was the world's smallest and most accurate wearable continuous intelligent temperature measuring device. Its temperature measuring accuracy could reach 0.05 degrees Celsius, and a charge could be used for 10 days. If the device was connected to the phone APPs, the temperature data changes of the user would be clearly displayed on the phone page, and temperature could be automatically measured and reported to the background. A small "smart thermometer" could help hundreds of staff members in COVID-19 prevention and control at a venue.
Hospital on Wheels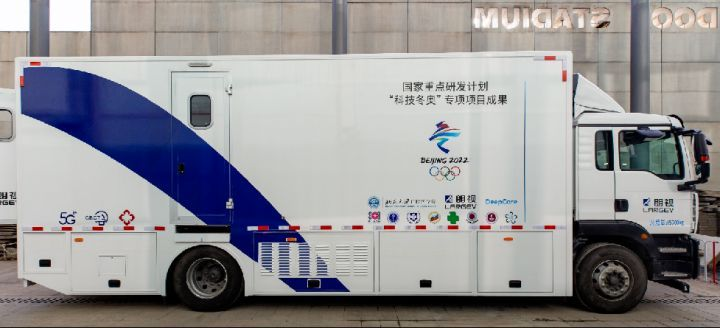 Intelligent Mobile Cabin Hospital Supports the Ice Test Events of "Experience Beijing"
Ice and snow sports were exciting and attention-grabbing, but injuries were often instantaneous, and medical treatment needed to be offered quickly and accurately. The "Mobile Medical Vehicle" was China's first independently developed mobile platform offering intelligent diagnosis and treatment of frostbite and maxillofacial trauma. Despite limited human resources and medical equipment, it could, by fully leveraging the strengths of hospital medical technology, provide real-time, remote, high-mobility, and digital medical service, in application scenarios of diagnosis, emergency treatment and nursing.
In addition, many new technologies and applications have made their debut during the Beijing Winter Olympics. With the support of all the sophisticated technologies, the 2022 Beijing Winter Olympics was set to be an amazing sports extravaganza!