At the invitation of the organizers, Changsha sent a delegation to participate in the 2018 UNESCO Creative Cities Network Global Forum held in Daegu, South Korea, the "City of Music" from Sep 18th to 19th, 2018 .
Nearly 100 guests including representatives of member cities, experts and scholars of the UNESCO Creative Cities Network attended the meeting.
The forum aims to promote the sustainable development of creative cities in Asia and enhance cross-disciplinary cooperation among cities.

(The 2018 UNESCO Creative Cities Network Global Forum was recently held in Daegu, South Korea)
Mr.Liu Xinzhou, director of the Media Art Center of Changsha, delivered a speech on the theme of "Cooperation and Development of Creative Cities in Asia" at the forum. He introduced Changsha's experience and practices in building the world's "Media Art cities" to the guests, and analyzed the challenges and opportunities within the creative cities network, and the economic, industrial, and willing basis for creative city cooperation, and he put forward proposals for deepening cooperation between Changsha and other creative cities, including building an exchange platform, launching an artist residency program, building an industrial base, and promoting a global tour of fireworks.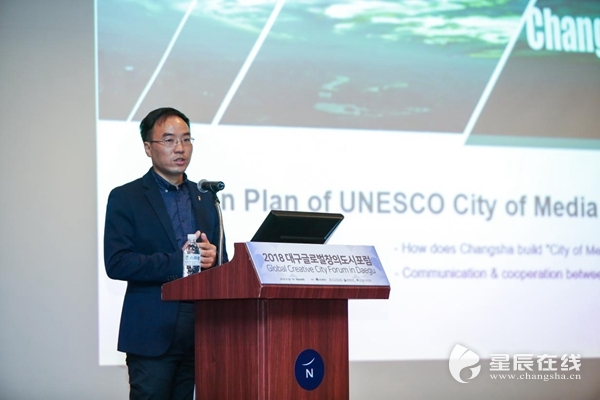 (Liu Xinzhou, Director of Media Art Center of Changsha, delivered a keynote speech on "Cooperation and Development of Creative Cities in Asia"。)
During the forum, the Changsha delegation also had friendly exchanges with representatives from cities such as Daegu in South Korea, Yamagata in Japan, Mannheim in Germany, and Pesaro in Italy.。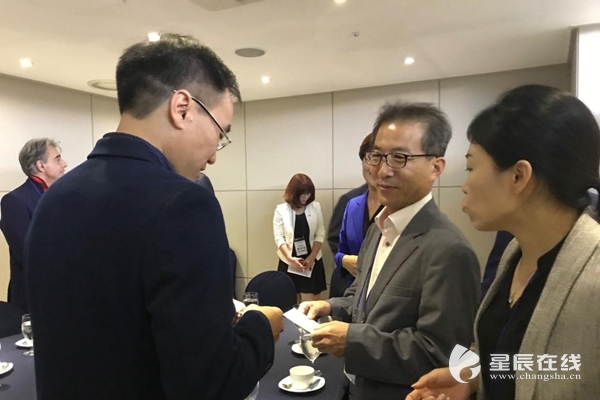 (Representatives from Changsha and Daegu, South Korea have friendly exchanges. Pictures provided by MACC)