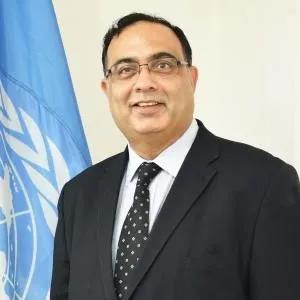 UNESCO Director-General Audrey Azoulay has appointed Professor Shahbaz Khan as the Director of the UNESCO Office in Beijing and UNESCO Representative to the Democratic People's Republic of Korea, Japan, Mongolia, People's Republic of China, and the Republic of Korea. Prof. Khan has taken up his functions on 9 March 2021.
Prof. Shahbaz Khan has been devoting his career to civil engineering, hydrology, environmental law and economics as well as international environmental sciences for the last 31 years. Most recently, he served as the Director of the Regional Bureau for Sciences in Asia and the Pacific in Jakarta, Indonesia, and UNESCO Representative to Indonesia, Brunei Darussalam, Malaysia, the Philippines and Timor-Leste since 2015.
Professor Khan joined UNESCO in 2008 at its Headquarters as Chief of the Water and Sustainable Development Section of the Natural Sciences Sector.
Before joining UNESCO, Professor Shahbaz Khan has worked in various research, consultancy and policy positions in Australia and Pakistan. His work has also been well recognized in China e.g. 2019 China Friendship Award and Great Wall Friendship Award China 2017.
Professor Shahbaz Khan holds a Bachelor of Science (Honours) degree in Civil Engineering (1990) from the University of Engineering and Technology, Lahore (Pakistan), a Master of Science degree in Water Resources Technology and Management (1992) and a Doctorate in Civil Engineering (1995) from the University of Birmingham (United Kingdom). He also holds a Master's degree in International Environmental Law (2005) from Macquarie University (Australia) and a Master's degree in Applied Environmental Economics (2007) from Imperial College London (United Kingdom).