UNESCO has collected global data in April this year to investigate the suspension of classes caused by Covid-19. The survey shows that over the world, at least 1.5 billion students and 63 million teachers from elementary and middle school have been affected by the interruption of education. As the most energetic and creative group, young people around the world have faced challenges and acted actively during the epidemic, and have contributed their talents in many fields such as education.
Kaewkhwan Ruengdecha lives in Bangkok. She is a writer and an exhibition designer for museums. She also works as a volunteer teacher teaching board game designing at Saturday School Foundation. The foundation gathers volunteer teachers from various working backgrounds together to give interesting lectures such as cooking, photography and dancing in schools located in Bangkok on Saturday, to develop student's extracurricular potentials.
Saturday School has been operating for six years now. However, in this summer, teachers were unable to give lectures in schools because of the lockdown caused by Covid-19, and they did not know how long the lockdown will last. Kaewkhwan and other teachers worried that if students were unable to have classes for too long, their learning ability and motivation would be impaired. This March, teachers in Saturday School Foundation have set up an online community called Saturday School Hub in Facebook, where students can meet their volunteer teachers and take classes from Monday to Sunday. Teachers have designed some creative lessons like Taking Photos from Home, Learning English via Cooking and Quarantine Dance. Kaewkhwan believed that the online hub was like a virtual playground, providing opportunities for students to learn, play, and interact with friends and teachers again. It also helped some volunteer teachers reduce work-from-home stress.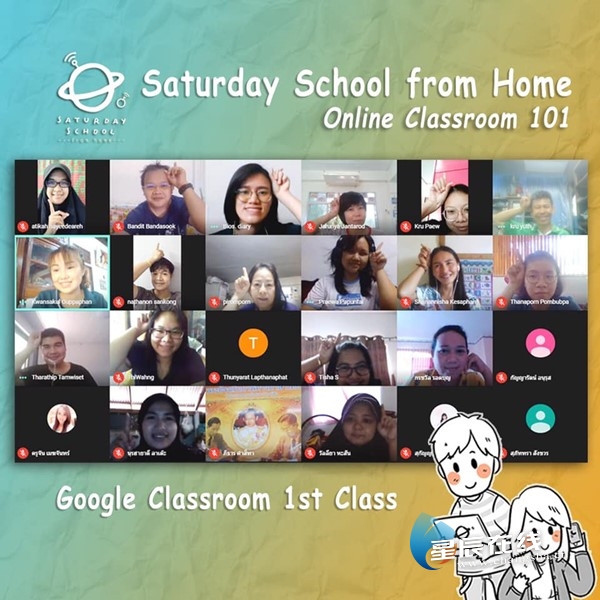 (Saturday School gives lessons online though Google Classroom. Photo: Facebook Homepage of Saturday School)
The government has announced that schools and education institutes will start the first semester of the year from July 1st. The Ministry of Education have tested an online learning system called DLTV, in case at-school teaching is not safe enough in the beginning of July.
UNESCO stated that it is very important to provide online education effectively to ensure learning continuity. Besides Kaewkhwan, Liu Yihan, a student from Hunan University also paid attention to educational issues during the epidemic and has launched an online public welfare project called "One Table Project". He has united more than 2,000 volunteers from more than 260 universities at home and abroad to provide one-on-one online tutoring for primary and middle school students in Hubei Province.
Kaewkhwan and Liu Yihan are both Youth Delegates of International Youth Forum on Creativity and Heritage along the Silk Roads: Special Dialogue on Youth's Response to COVID-19 (IYFSD). The event was jointly held by UNESCO, Chinese National Commission for UNESCO, Changsha Municipal Government, and Nanjing Municipal Government on the evening of May 20.
In this special dialogue, more than 100 Youth Delegates from 68 countries along the Belt and Road exchanged their ideas around the theme "Youth's Response to COVID-19". They shared their knowledge and experience in the fields related to their study and work based on the real situation in where they stayed during the pandemic. After the speech given by Youth Delegates, UNESCO approved the actions taken by young people around the world, and encouraged them to carry out exchanges and cooperation, to respond to challenges actively, and to make greater contributions to their community and the world.