In the evening of May 20, International Youth Forum on Creativity and Heritage along the Silk Roads: Special Dialogue on Youth's Response to COVID-19 (IYFSD) was held online. More than 100 Youth Delegates from 68 countries along the Belt and Road spoke freely around the topic "Youth's Response to COVID-19". In the parallel session "Creativity, Employment and Entrepreneurship: Challenges and Opportunities for Youth", Yves Nisabwe, the Youth Delegate of the third International Youth Forum on Creativity and Heritage along the Silk Roads, shared the challenges and opportunities that Burundi youth are facing in the pandemic as a main speaker.
Yves is a lecturer in the communication faculty of Light University in Bujumbura. According to what he saw, the students didn't obey social distancing rules much and it was very difficult to make students keep distance with each other during classes. Burundian people continued to participate in social events during the pandemic. For example, Christians attended masses, and Muslims participated in the End of Ramadan without keeping social distance.
Yves told other delegates that the global pandemic of coronavirus is impacting the lives of most people around the world and also the economy in many countries. His country Burundi wasn't spared. Yves' mother worked in the company AFRITEXTILE which has now been closed because of the pandemic. The company was unable to tell the staff when it will reopen. Young people in this company have lost their jobs and have no idea about how to deal with the pandemic. Young entrepreneurs who have already started their own business didn't know what will be like in the future neither. Some non-governmental organizations in Burundi succeeded to offer jobs to the youth, but they were gradually closing because of the pandemic.
Yves also said that in Burundi, there are many young people who are talented and innovative, but they need platforms to show their talents and creativity. In April, Burundian government established Youth Investment Bank which aims at providing financial support to youth innovation, entrepreneurship and cooperation. Yves also suggested that Burundian youth can participated in relevant online communications to improve their ability of innovation and creativity. He believed that through Youth Investment Bank, Burundian youth could share their knowledge, creativity and practices to fight against COVID-19 with people around them as well as people around the world.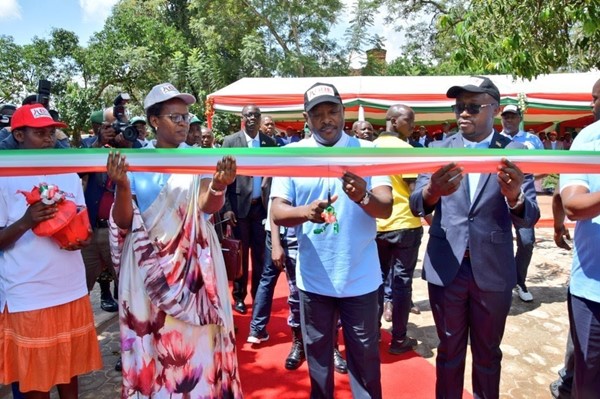 (Burundi President Pierre Nkurunziza took part in the inaugural ceremonies of Youth Investment Bank on April, 14, 2020. Photo: Region Week)
In April, 2019, UNESCO adopted Changsha Initiative proposed by global delegates in the third International Youth Forum on Creativity and Heritage along the Silk Roads. Changsha Initiative recommends in consensus 1 that "Financial and intellectual support from governments, enterprises, schools and other parties should be provided to promote youth development, innovation and entrepreneurship." During the pandemic, Changsha municipal government actively initiated C + C Global Youth Innovation Partnership Plan, which will provide opportunities for youth development with financial support, policy support, exhibition platform and other supportive measures.