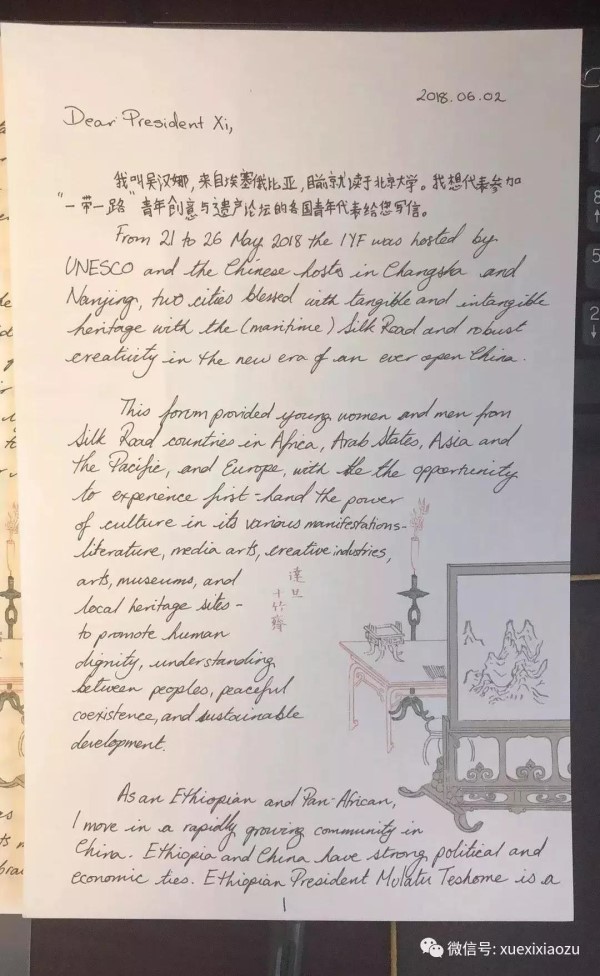 Hannah's letter (Source: Xuexixiaozu)
Yesterday, Chinese President Xi Jinping replied a letter to Hannah Getachew, a youth representative who participated in the International Youth Forum (IYF) on Creativity and Heritage along the Silk Roads. "Young people are the future of a nation, and young people from China and Africa represent the future of China-Africa friendship," President Xi wrote in the letter. He urged them to engage in more cultural exchanges, continue actively participating the building of the Belt and Road, and carry on traditional friendship between China and African countries.
In 2017 and 2018, UNESCO Beijing and the Chinese National Commission for UNESCO co-organized the first and the second IYF. On the second IYF & 2018 Changsha Meida Arts Festival, 80 youth from China and countries along the Silk Roads discussed their involvement in protecting common heritage and promoting creativity industries.
As the youth representative of the second IYF, Hannah Getachew, a Peking University student originally from Ethiopia, wrote in the letter to President Xi about how she experienced the amazing Chinese culture and her opinions on the China-Africa cooperation. "I am deeply in love with China and Africa. I want to use my limited knowledge and abilities to connect China with Africa, and bridge the gap between them, anytime and anywhere", wrote Hannah.
In addition to Hannah's letter, other IYF youth representatives also wrote down their experiences in the Forum and in China, and their views on the Belt and Road Initiative:
"China choice to invite delegates from around the world showing them how marvelous they have been able to construct unique cities by incorporating culture heritage, gathered after the great wars, and modern technology serves as a testament of creativity and heritage and an exemplary route for the world at large to fellow. Personally I feel like an ambassador to preach the Good News of China's intangible heritage and the developmental goodies packaged in the concept of the Silk and Belt Road which I believe is a model for other countries to emulate. Also it's was my first time of seeing how impactful communism could foster development.
To me, in the past, this system of government was very unclear but I am happy to have been opened to it through some of the visible achievements in Changsha and Nanjing. Also, as a student of literature, I was always limited to think that literature was the lone creative means to preserve culture and its value but expositions and ideas from other delegates helped enlighten me more. I learnt technology had a great part to play as well as other components I hardly thought of. If China has been a place destined for me to learn and meet some great minds both from my continent and other continents, then it's obviously a place to be."
  --Jude Achiageonzoh Fonchenalla, Cameroon
"As an islander, I am confronted with two choices. Either I can turn my back to the ocean and believe that my island is the world or I can open my arms and welcome the world while being a proud islander. I have chosen the second one because I believe that it is by sharing our ideas and learning from each other that we can make our world a better place to live in. IYF2 has helped me discover the People's Republic of China which has taught me many things. One among these things is as to how one can at the same time be modern while continuing to practice centuries-old traditions, customs and techniques. There is a beautiful blending of technology and tradition.
Secondly, I can proudly say that I have made friends across the world, friends who have the same concern for our planet earth. I am optimistic that with the skills we have gained from IYF2 we can make a change."
  --Kavinien Karupudayyan,
  Mauritius
"Under the auspices of authorities at all levels of the People's Republic of China and organizers of the International Youth Forum on Creativity and Heritage along the Silk Road, I would like to express my gratitude and consider forever this experience engraved in my memory as I witnessed a bright and prosperous future of Chinese cultural, artistic and heritage development. Indeed, I am amazed by the quality of the infrastructure and cultural institutions that abound in the city of Changsha and Nanjing. In this, I am particularly impressed with the city of Nanjing for the quality of its landscape never seen before. Nanjing, a city totally developed in the green spaces, proves that the city of Nanjing is a tourist predilection of the future and a place where life is good. And I am mostly marked by Chinese food.
For me, the city of Changsha and Nanjing represent a crossroads of civilization of the cultural world because these two cities are rich in history and its rich heritage. This International Youth Forum on Creativity and Heritage Along the Silk Road has succeeded in bringing together more than 40 to 80 youths of the world of different nationality and cultural diversity. This experience allowed me to realize how important cultural diversity is in development in a big country like China, which has a particularly rich development model of its history and heritage."
  --Freddy Patrick SANZE DARAMO,
  Central African Republic
"IYF2 has been the brightest spot in my galaxy of work, networking and fora. The theme of the forum deepened my understanding of creativity, culture and heritage far better than I appreciated. It has now challenged me to leverage technology for culture preservation and creativity advancement. China, in itself offered the best cultural nest to the diversity of delegates from various nationalities. It was a unique learning experience studying how China has preserved its rich culture in various (literature, media arts, etc.).
The tours and field visits were exceptionally helpful. Then as well, the diversity of all delegates offered me the broader understanding and appreciation of various cultures. You hardly meet awesome young leaders carefully selected for events such as this. I was also able to share some unique perspectives of my culture and arts with other delegates.
I'm grateful to UNESCO for this unique opportunity and looking forward to leading change in my community, society and world. "
  --Cherubim Mawuli Amenyedor,
  Ghana
"I highly appreciate the hospitality and thoughtful arrangements of the Chinese government officials and organizers from the UNESCO, and the exceptional warmth and kindness of the volunteers. China's been a neighbor of Myanmar since forever, and I have heard a lot about it through history studies, media and culture, but must admit that the physical experience topped them all. Changsha was beautiful naturally and intelligently, while Nanjing's richness in literature and heritage was inspiring.
The program is nicely structured, including the plenary sessions as well as a bit more focus on hands-on activities of literature, arts and creativity. And most importantly, I am grateful to IYF for the opportunity to build lasting friendships with phenomenal (and annoying) people throughout the Belt and Road."
  --PHYO THURA HTAY,
  Myanmar
"I thought the program was a stimulating way to understand the contemporary Chinese culture and its cultural heritage. It simultaneously allows the participants to expose to Chinese cultural industry, and to have a better comprehension of the Chinese government's agendas, policies, and its readiness towards the cultural economy, and the social viability of the neo-silk road era. This is not to mention that the program is a great platform to foster network, friendship, and connectivity."
  --Reaksmey Yean,
  Cambodia
"I'm very grateful that IYF2 and UNESCO have provided me this opportunity for me to share a little about Malaysia, especially on the shared cultural heritage of our huge ethnic Chinese diaspora, the largest outside the Greater China region in fact, to the Chinese host and the other international delegates, on how we can work together to strive for common prosperity and advancement of our longstanding friendship with each other. And I'm even more grateful that Belt and Road Initiative has united us all into exploring the future prosperity and endless possibilities that China as a strong, successful country in the world can offer, especially to the developing world where I come from.
As one of the international delegates said, we, the youth delegates, are the faces of the present, not just the future, and I look forward to bringing the IYF2 spirit and values back to Malaysia to foster stronger cooperation with, the present and future leaders of China and the rest of the Belt and Road countries."
  --Yik Wai Chee,
  Malaysia
"The image which I had always in my head for China was that image of commerce and industry. IYF2 gave me the opportunity to see the other face of this country and to live an invaluable cultural experience there. I think this forum is one of the best international experiences I had in my life. I felt like it was a one-week dream in the Paradise of China. Everything was well organized to help us to know more about the Chinese culture and heritage. I haven't stopped telling my friends about this experience which helped me to have this new image of China: an image of culture, arts, heritage and literature."
  --Nesma Jaber,
  Palestine
Following the IYF2, 8 participants took part in the "Experience Changsha Media Arts Program" which was sponsored and hosted by Changsha Media Arts Center. The Program was aimed at providing young people with an exchange platform on cultural innovation work and world cultural heritage, boosting their interest and enthusiasm on different fields and mobilizing the participation of the global youth in the cultural and creative industry as well as in the world heritage protection.
In 2019, UNESCO and the IYF will continue providing young women and men with an opportunity to experience first-hand the power of culture, in its various manifestations—creative industries, traditions, arts and crafts, museums, heritage sites, and others—to promote human dignity, understanding between peoples, peaceful coexistence, and sustainable development.