Fireworks bloom at the starry night and leave a glorious beauty to the world. The splendid scene comes out of the hands of firework designers. Huang Cheng, from Liuyang, is a one of them. As a firework director, his masterpieces are played on the stage of night sky, singing the praises of Liuyang fireworks to the world.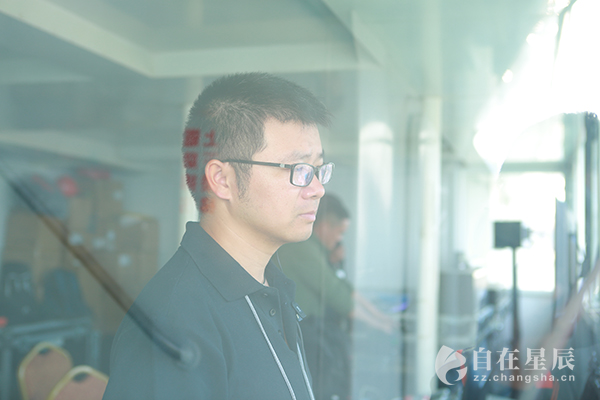 (Liuyang firework designer, Huang Cheng.)
Firework Design
Many times I watched the fireworks on the night sky, and I was amazed by its varied forms. I was wondering is that the original look of fireworks?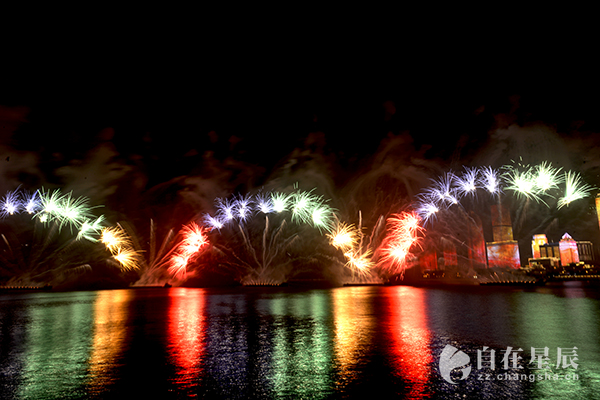 ( Light and Fireworks Show "Community of Common Destiny" at the 2018 Shanghai Cooperation Organization (SCO) Qingdao Summit.)
It was from Huang Cheng, that I first knew there was a work called firework designer. The fireworks we admired are their creations.
What is firework design? According to Huang Cheng,"It's to arrange different types of fireworks in an order, and control its sequence, duration and model of display through combination with music to carry out a fireworks show."
  (Huang Cheng and his team were discussing the details of the fireworks show.)
This is a new and complex work involving fireworks attribute, event theme, light design, designer style and coordinated music. The fireworks used are distinguished from those on the market. Only specialized company with professional qualification can produce such fireworks. The FIRE-SHOW company which Huang Cheng work for is one of them. The hundreds of fireworks shows it designed are like customized spectacle.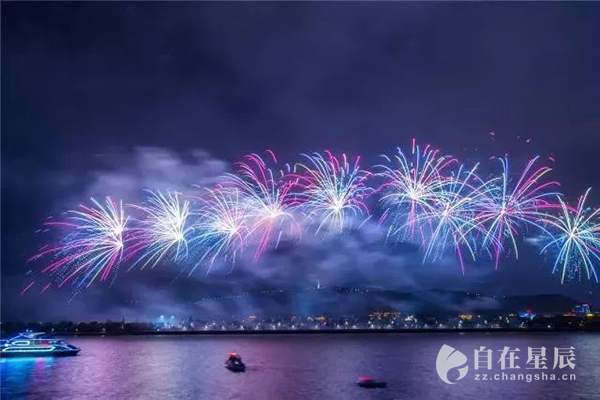 (Digital firework show.)
On the evening of May 22, the digital firework show, as one of the main activities of the "2018 Changsha Media Art Festival", amazed Changsha above the Xiangjiang river. The digital fireworks show was telling the "Fireworks Night" story in three chapters, which was honored as "the most beautiful love letter to the sky".
As to the relation with fireworks, children in Liuyang are undoubtedly the first to get in touch with fireworks. "When I was a kid, I was just happy to see fireworks." Huang paused for a while and continued, "Now I'm even happier to see the fireworks I designed make others happy." This is not only passion for his work, but also pride of his creation.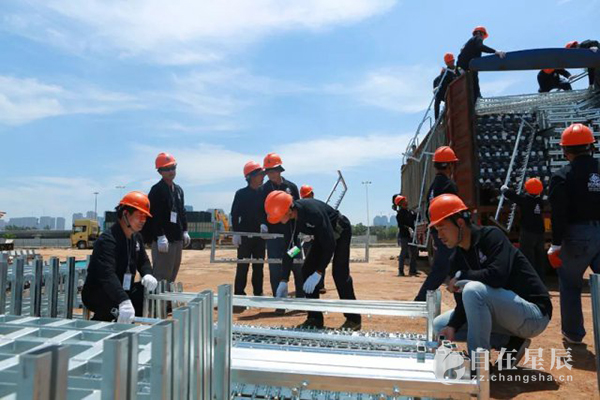 (FIRE-SHOW undertook the fireworks show at the SCO Qingdao Summit.)
Fireworks design was never in his career planning. When in college, Huang is majored in electronic information engineering. He is a "science geek " who loves computer programming and electronic devices. After his graduation in 2008, he found a job as a marketing manager in Beijing. But he came back to Liuyang for family reasons and worked in Liuyang Fireworks Group. There he was responsible for the production management of electronic equipment for fireworks display.
Soon, this young "science geek" fell in love with Liuyang fireworks. In 2010, Huang Cheng founded Liuyang Chuangyi Technology Co. He witnessed the transition from traditional fireworks to intelligent automatic fireworks, and his dreams and vitality brought him creative imaginations.
  (The fireworks in the 13th China (Liuyang) International Fireworks Festival.)
The fireworks show at the SCO Qingdao Summit on June 2018; the digital fireworks show at "Changsha Media Art Festival" on May 2018; the co-performance of drone and fireworks at the "13th China (Liuyang) International Fireworks Festival" on November 2017; the first large-scale pastoral fireworks live show in Changsha - "Above the Liuyang River" on June 2017; the fireworks with patterns in the 750th anniversary of Mogilev, Belarus in 2017; the fireworks show in Nanjing Youth Olympic Games in 2014, and Beijing APEC...
In the past eight years, he has become an outstanding designer of fireworks display in the youth generation. In his opinion, fireworks show is an art. He founded the FIRE-SHOW in 2014, which is the first to combine the fireworks show with scene art.
FIRE-SHOW
From Liuyang to China, and then to the world, Huang Cheng designed hundreds of fireworks show for different cities.
  (Huang cheng (right side) participated in fireworks competition in Manitoba, Canada.)
In order to bring vitality to this traditional industry, he combined fireworks with performance, light and traditional folk tales, turning this industrial product into art piece.
The co-performance of drone and fireworks at the 13th China (Liuyang) International Fireworks Festival was a bold attempt. The 1290m² screen was gradually lighted up with the music rhythm. 28 drones hovered and swayed above the Liuyang River, carrying safe, cold-light and environmentally friendly fireworks, blooming like a dream.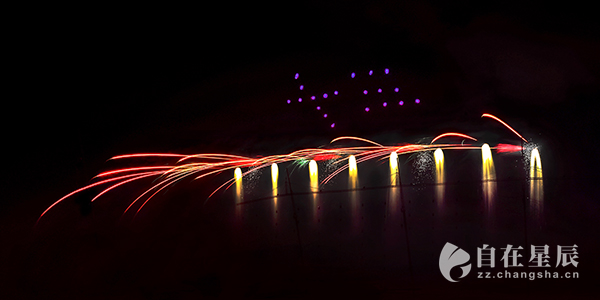 (The co-performance of drone and fireworks.)
It's not his first time to participate in the International Fireworks Festival, but it's the first time to combine fireworks with drone, which is approved to be a tough task and takes more than 4 months to prepare.
"Because the firework itself has impact force when set off, and the drone which can fly in formation can not carry the fireworks, and vice versa. So these drones with large load capacity were specially designed for the show, and ran more than 30 times of tests." Huang Cheng said, although two of the ten large drones fell during the performance, the dazzling brilliance in the sky still surprised everyone.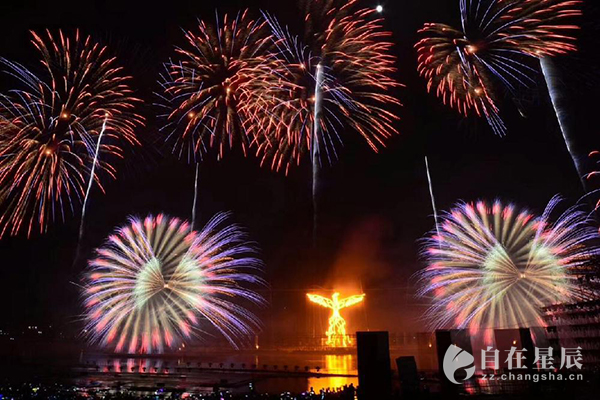 ("Phoenix Nirvana" at the 13th China (Liuyang) International Fireworks Festival.)
Huang Cheng also tried the combination of light and fire, a fireworks phoenix was flying out from a row of screen. The creative forms of fireworks like 3D fireworks, mobile sparklers and musical sparklers offer a new direction of development.
"Many elder predecessors have witnessed the inheritance and development of fireworks from the first festival to now. From setting off the fireworks manually to programming and lighting automatically, as well as combining fireworks with light and spectacle, these changes impressed them a lot. "I believe that fireworks will develop even further in the future."
Huang Cheng writes a manual guide for every fireworks show he designs, detailing the personnel, launch angle, project schedule, operation details and so on, to ensure that the actual effect conforms to the design, and to guaranty the absolute safety.
Fireworks display is a systematic project involving various aspects like creative design, on-site installation, test and work arrangements. So the fireworks we see are the creations after numerous brainstorming.
The particularity of fireworks industry has always given Huang Cheng a sense of pressure. "During the SCO Qingdao Summit, I couldn't fall asleep for several nights. What should I do if something goes wrong? What if the thing is not mature?" said Huang Cheng. They adjusted the plan 20 times before the summit, tested and demonstrated the safety above the sea again and again in Qingdao to make sure that the launch angle and the stability of the shelf will not be affected by the waves or gusts under extreme conditions.
Under such pressure, Huang Cheng grows to be more steady, persistent and pursues perfection than expected. "Pressure only makes you progress, makes you think more careful." And he feels more pleasure and pride after every fireworks show was successfully carried out under such pressure.
Fireworks director
Huang Cheng positions himself as a fireworks director, and he wants that ordinary families can have access to large fireworks shows.
  (Huang's team celebrated the success of the fireworks display at APEC in Beijing.)
He still remembers participating in the Changsha International Musical Fireworks Competition in China four years ago, His work "Two People's Fireworks" competes with the designs of more than 40 teams from China and abroad. This experience starts Huang Cheng's career life as a fireworks director.
Huang Cheng recalled the scene at that time. "When I won the first prize, I hugged a staff beside me, but I didn't know him before, haha." He can still feel the joy. But now he is even happier to see that the audience are impressed by his fireworks, and is proud when his fireworks are displayed abroad.
In April 2017, after Mogilev of Belarus and Changsha reached an intention of sister cities, Liuyang fireworks act as "Cultural Ambassador". Huang Cheng and six other enterprises formed the new Silk Road Liuyang Fireworks Display Group to carry out a splendid fireworks display on the 750th anniversary of Mogilev.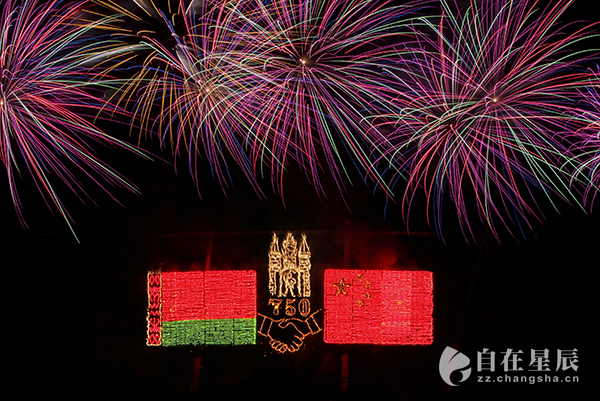 (Liuyang fireworks sparkle in the night sky in Morgilev, Belarus.)
At that moment, I was just so proud." Huang Cheng said. "The melody of "Jasmine" and "Liuyang River" was played in Mogilev City. Liuyang Fireworks sparkled in another country on behalf of China. I even felt a little trembling when hearing the cheers and cries."
Over the past eight years, more than 60 fireworks shows over a year have given Huang Cheng a strong confidence in himself. He only pursues the future that he wants. In recent years, many people have come to him for cooperation, but he is more scared instead of being happy. "When you work together with others, you'll have to weigh and abandon something, that is not what I want. I prefer to earnestly make some creative and characteristic fireworks shows first."
  (Huang Cheng (left side) is working together with a famous director.)
He is good at learning and often draws inspiration from music, theatre and movies. He also works with famous directors like Zhang Yimou and Chen Weiya in some events, and he records, studies and thinks about their artistic creations.
All successes have their similarities. And it's during these events, Huang Cheng began to consider "Can we bring Liuyang fireworks to international stage and let the people all over the world who enjoy fireworks see our creations?"
He emphasized that compared with foreign fireworks show, the domestic show does not lack products but creativity. In addition, due to environmental requirements, the development of the fireworks industry is restricted, so there is still a long way to go in the future. According to Huang Cheng, "There are many factors contribute to a man's success, but persistence is no doubt one of them."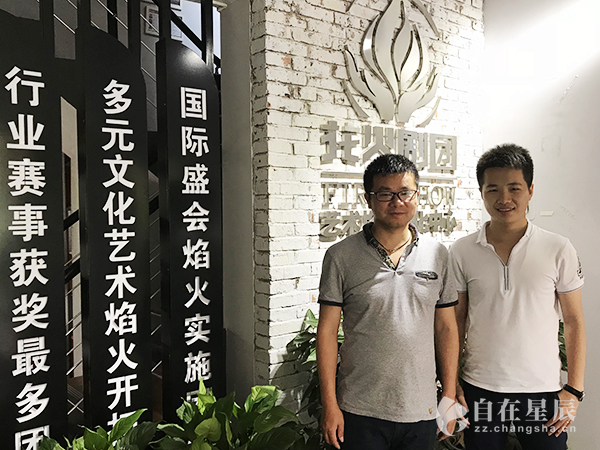 (Photo of Huang Cheng and the reporter.)