5 video creative companies settled in Malanshan
  The total of Estimated investment is 8 billion RMB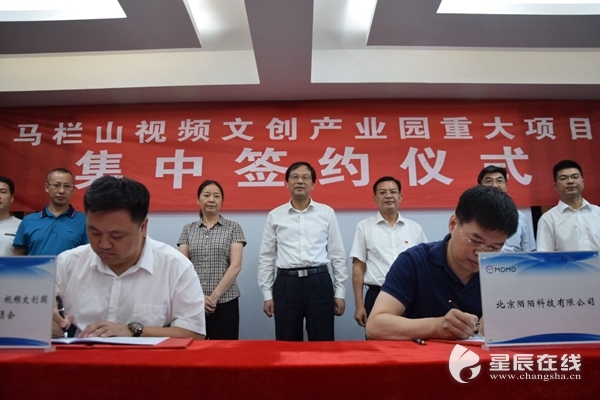 (5 companies and 1 commercial bank signed an agreement with the management committee.)
On June 29th, Ma Lanshan video cultural and creative video industrial park held a project signing ceremony, five video creative enterprises settled in the park this time. The building volume is about 500,000 square meters, the estimated investment is about 8 billion RMB. At the same time, Changsha Bank will provide 20 billion RMB credit for these enterprises and open the Malanshan Cultural and Creative Branch.
At the signing ceremony, Beijing Momo Technology Co.Ltd., the leader of mobile social platform; Shenzhen Chuangmeng Tiandi Technology Co., Ltd., the largest mobile game operator in China; Country Garden, a Fortune 500 companies; and Shenzhen Rongde Investment Holding Group, a highly influential investment company in pan-cultural fields ; Juheng Group in Hunan, which integrates "Technology + Culture + Internet" and Changsha Bank signed an agreement with Malanshan cultural and creative Park Management Committee one by one.
These five companies will build an international film and television innovation base and a new video industry park in the Malanshan video cultural and creative industrial park and will settle in the headquarters building. Through the cooperation between banks and enterprises, Changsha Bank will provide 20 billion credits to research financial products that meet the needs of cultural and creative Enterprises and support the development of the enterprises through the combination of financing and professional services.