On the morning of 22nd May, as the part of the Changsha Media Art Festival and the International Youth Forum on Creativity and Heritage along the Silk Roads, the "Advancing Creativity for Development: High level forum was held successfully.
◎The Mayor of Enghien-Les-Bains Shared its Experience
Mr. Philippe Sueur, Mayor of Enghien-Les-Bains, France, said that as the member of UNESCO's Creative Cities Network, Enghien-Les-Bains recognized that cultural creativity is an important and sustainable engine of cultural, social, economic and environmental development. And he added that Enghien-Les-Bains, is customary be called experimental city because it is at the forefront of cultural planning, outstanding and ambitious. More importantly, it focuses on young people's creation, new works and stage design, and provides digital practices for the public at all ages.
In accordance with Changsha's attitude attached great importance to young generation, Mr. Philip believes that young people play a significant role in social development. The key to integrate the diversified young people is to utilize the power of culture and creativity.
◎Representatives Actively Post Questions
Zahra Hussaini, representative from Afghanistan, raised questions to Ms. Marielza Oliveira, Representative and Director of UNESCO Beijing Cluster. She asked: "In Afghanistan, many women didn't receive any education, but they have excellent skills. All those handcraft arts are part of Afghan history and culture. However, after so many years, the voices of Afghan women still haven't been heard by the world."
Ms. Marielza Oliveira responded that indeed this issue is a problem and challenge that the United Nations has always faced and what they are trying to cope with. She hopes that except the efforts from the superior departments, there will be more and more people like Zahra Hussaini who can bravely stand up and speak for themselves to let their voices be heard.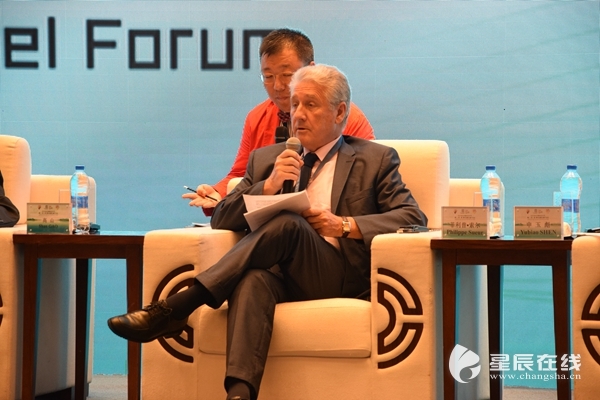 (Mr. Philippe Sueur, the mayor of Enghien-Les-Bains)
  (Zahra Hussaini from Afghanistan)