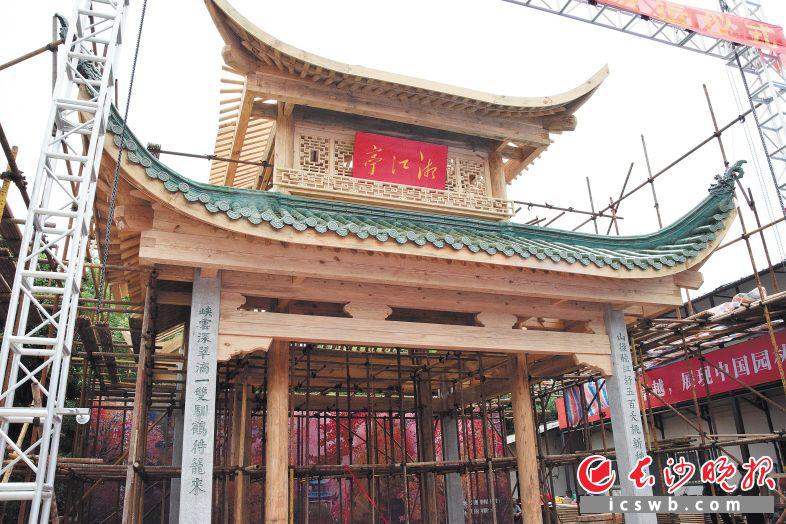 ( "Xiangjiang Pavilion" will set off across the sea and settle down in Phalen Park in Saint Paul. Photo taken by Jialu Liu, the correspondent of Changsha Evening News)
  Yesterday, on the occasion of the 30th anniversary of the sisterly ties between Changsha and Saint Paul, Minnesota, USA, the "Xiangjiang Pavilion" built on the model of "Aiwan Ting Pavilion" was officially unveiled and set off, bearing the profound friendship of the people of Changsha. The "Xiangjiang Pavilion" will settle in the Phalen Park, Saint Paulo City, United States.
  Since Changsha City and Saint Paulo City became sister cities in May 1988, the two cities have conducted a series of fruitful exchanges in high-level visits, urban construction, culture and arts, and youth exchanges. In 2015, Changsha Yanghu Wetland Park and Saint Paul's Phalen Park became sister-friendly parks, and it was agreed that mutual gifts with their respective city features should be permanently stored in each other's parks in order to enhance the friendship between the two cities and their people. In March this year, five statues of cartoon characters based on the "Peanut Caricature" designed by the cartoonist Charles Schulz of Saint Paul City took a step forward to Changsha and are expected to settle in Yanghu Wetland Park in July. The statues are "Snoopy Joe", "Charlie Brown", "Rinus", "Snoopy in the Kennel" and "Lucy".
  As a gift to the Phalen Park, the "Xiangjiang Pavilion" applied the calculation formula of Chinese traditional wooden structures and trusses. However, there is no such formula in the American Standard. At the same time, raw material export needs to consider biological quarantine security and many other restrictions. Still, talented Chinese engineers have tried hard to overcome difficulties and built the "Xiangjiang Pavilion" successfully in just four months.