From 17th to 19th, 2017, the opening ceremony of Culture City of East Asia·Year of Kyoto, Japan was held in Kyoto, Japan.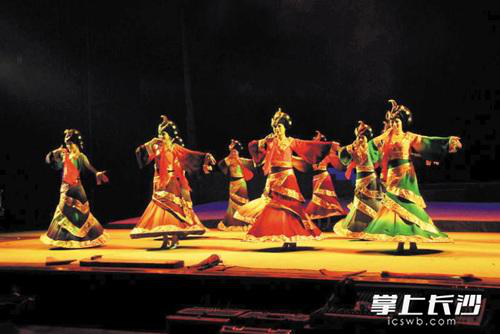 Programs of Changsha characteristics presented in Changsha Dance Theater
On the opening ceremony, the artists in Changsha Dance Theater, together with other artists from Korea and Japan, present wonderful cultural and artistic programs with ethnic flavor and local characteristics. Local Kyoto citizens praised the event a precious journey of culture, art and friendship, which enhanced the mutual understanding and trust between China and Japan and South Korea.
It is reported that in order to do a good job in the exchange performance, Changsha Dance Theater elaborately prepared, designed and selected the ethnic dance "Duo Ga Duo Ye"(sing and dance together in Dong dialects) which can show Hunan people's enthusiasm and hot character. It is worth mentioning that with innovation and international horizon, "Liuyang River" and "Cherry Blossom" , famous Chinese and Japanese folk songs, were manipulated into new versions in folk music instruments, expressing the wish of friendly communication between Japan and China.